Cineworld has become the first major UK chain to bring the cinema experience to a music festival. Michael Rosser decamped to V Festival to check it out.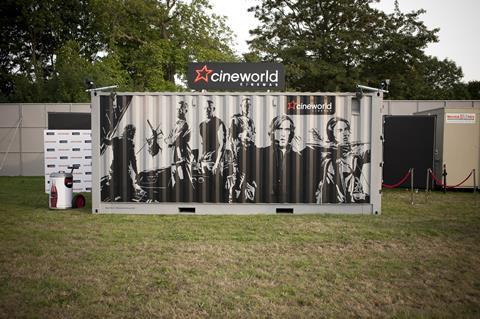 Music festivals have presented me with all kinds of experiences over the years… from the mudslides of Glastonbury to the mud fights of Reading. But the V Festival [Aug 17-18] was the first time I'd been offered the chance to escape the mud for the comfort of cinema.
In a field in England (Hylands Park in Chelmsford to be exact), Cineworld introduced its 'Pop Up Cinema' to the VIP Louder Lounge area.
A converted shipping container, adorned with characters from this year's blockbusters, it can seat 75 people and comes complete with bean bags, blankets and a popcorn machine.
Justin Skinner, Cineworld's VP of marketing, told ScreenDaily that the idea to bring the pop-up to V was an extension of a pilot roadshow that visited six key cities earlier this summer.
"This is a test for us," said Skinner. "These two containers were part of a roadshow that we held to promote Unlimited, our subscription service that has over 360,000 subscribers.
"We realised there was not enough awareness of Unlimited outside of our cinemas so we went on the road with these two containers to showcase the upcoming slate of movies you can see over the next six to 12 months.
"Since we have these containers we didn't want to limit it to going on the road with a sales pitch. So we decided to go on the road from a brand perspective to show people what we can deliver in terms of a great experience at Cineworld.
"The idea of having a pop up cinema at a festival with people who like music and love to go out and show them what we can do really appealed. So we've tried to deliver the ultimate experience, something that's unique and never been done before."
On the eve of the festival, Cineworld previewed biopic Lovelace, starring Amanda Seyfried. The demand was so high for the 9.30pm screening that it was repeated at 1am, replacing a planned showing of The Big Lebowski.
Rather than being projected, the screen was made up of nine-HD TV's fitted together, but it was easy to ignore the black lines after a few minutes. Occasionally, music from the festival filtered in from outside. But hearing "It's getting hot in here, so take off all your clothes" seemed appropriate during Lovelace.
It was also extremely comfortable on those beanbags… a little too comfortable for some viewers of The Blues Brothers in the early hours of Sunday morning who fell asleep toward the end of the film. And the sausage and egg muffins that accompanied the apt choice of The Hangover on Sunday at 8.30am were greeted with cheers. All the screenings were more than half full.
So will it pop up again next year and at other festivals? Skinner added: "We'll see how good the reaction is but the feedback so far has been great.
"It's about building people's love of our brand and if there's a real appetite for it we'll do more. We own these containers so we should be looking to go the road more often.
"Our challenge is to make cinema a much better perceived experience that people who don't go to the cinema think it currently is. If we can all work hard to improve the experience, that's good for everyone.
"And it's not just a Cineworld roadshow… it's cinema on the road, reminding people that the big screen is the best place to watch films."
Michael Rosser is news editor of Screen International