Dir: Kyle Patrick Alvarez. US. 2013. 89mins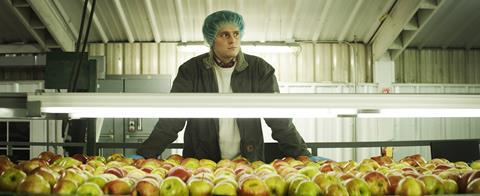 A compassionate light drama about the uneven path we all must take on the road to self-discovery, C.O.G. offers one lovely, heartfelt scene after another. Based on an essay by humourist David Sedaris about a trip to Oregon he took in his youth to escape his real life for a little while, this second film from writer-director Kyle Patrick Alvarez (Easier With Practice) is almost miraculously kind to all its characters, suggesting that everyone's search for happiness is as important as everyone else's.
The film's centrepiece performance belongs to O'Hare. Long a celebrated character actor in movies and television, he gets one of his best-ever roles as the deeply complicated Jon.
Playing in the US Dramatic Competition at Sundance, C.O.G. will receive a boost from fans of Sedaris. (This is the first of the author's works to be adapted for the screen.) The movie doesn't have any marquee names, but strong reviews should make this a very attractive prospect for the art houses.
C.O.G. stars Jonathan Groff as David, who has just finished graduate school on the East Coast and decided to get away from it all, for reasons that only vaguely become clear to us. (It appears that one of the factors might be his parents' unhappiness with his homosexuality.) After a long bus ride, David finds himself in Oregon, going by the name Samuel and doing manual labour in an apple orchard. Soon, though, he becomes entangled in the lives of others in the small town, including a smitten co-worker (Corey Stoll) and a born-again Gulf War vet named Jon (Denis O'Hare) who takes Samuel under his wing, unaware of the young man's sexuality while trying to convert him to Christianity.
When first we meet Samuel, we wonder if C.O.G. will be a fish-out-of-water comedy in which our preppy, sharp-tongued atheist hero clashes with the gruff, down-to-earth locals. Thankfully, that isn't what happens. Instead, Alvarez paints Samuel as a cocky fellow whose veneer of coolness hides a lot of insecurities. Likewise, the people that Samuel meets along the way are never quite what we expect. C.O.G. has the courtesy to treat each of these characters as more than just signposts along the way of Samuel's journey but, instead, as individuals struggling with their own doubts.
Most rewarding of all is how Alvarez handles religious faith as a key component in his story. Samuel is initially contemptuous of the religious, considering them weak-minded, but his growing friendship with Jon opens him up to the possibility that there might be something beneficial in believing in a higher power. But like so much of C.O.G., this issue isn't cut-and-dried but, rather, examined in a thoughtful, respectful manner that's incredibly generous and nuanced.
No matter how smug Samuel starts off, Groff never lets us miss the frightened little boy inside the man, and so the character's search for some sort of direction is often poignant, especially as we start to sense that he's struggling with fully embracing his sexuality. As C.O.G. ventures along, Samuel's vulnerability and sweetness come more to the surface, and Groff delicately finesses the character's every transition.
Stoll is superb playing a likable lug with big dreams who thinks he's finally found someone who understands him in this tiny community. But the film's centrepiece performance belongs to O'Hare. Long a celebrated character actor in movies and television, he gets one of his best-ever roles as the deeply complicated Jon. O'Hare allows all of Jon's warring impulses — his faith, his good humour, his volcanic temper, his small-mindedness — to coexist harmoniously, never permitting us to judge the man. This is what Alvarez does for everyone in C.O.G.: love them for who they are, despite their failings. As the movie ends, we still aren't sure what will become of Samuel or anyone else, but we definitely feel like we understand them.
Production companies: Forty Second Productions, Rhino Films
International sales: United Talent Agency, www.unitedtalent.com, and Preferred Content, www.preferredcontent.net
Producers: Cookie Carosella, Kyle Patrick Alvarez, Stephen Nemeth
Screenplay: Kyle Patrick Alvarez, based on the essay by David Sedaris
Cinematography: Jas Shelton
Production designer: Gary Barbosa
Editor: Fernando Collins
Music: Steve Reich, Joe Berry
Website: http://areyouacog.com/
Main cast: Jonathan Groff, Denis O'Hare, Corey Stoll, Dean Stockwell, Casey Wilson, Troian Bellisario, Dale Dickey