Dir: Olivier Megaton. France. 2011. 108mins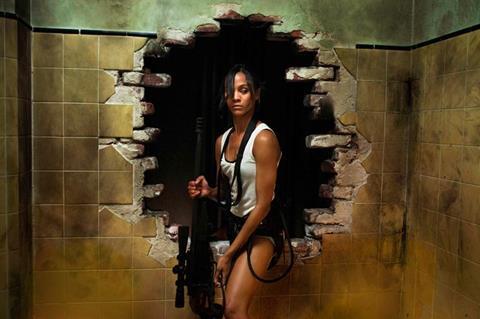 As a ruthlessly talented hit woman with a solid motive for bloody revenge, Zoe Saldana is sleek and convincing but little else is in Colombiana, an action-packed distraction for popcorn munchers who found the dialogue and plot points in Transformers: Dark Of The Moon too subtle.
Saldana is the main attraction throughout.
Co-penned by Luc Besson and Robert Mark Kamen, Olivier Megaton's (Transporter 3) lavish shoot-'em-up uses Mexico, Chicago, New Orleans and other scenic spots as backdrops for a parade of actors cast more for their archetypal looks and suitability for being shot, blown up or eaten by sharks than ability to adequately deliver hackneyed lines.
Still, this over-the-top tale — which opens July 27 in France prior to an August 26 release Stateside and Sept 9 in the UK — pushes all the action buttons required to keep undemanding viewers entertained on the big screen or gizmo of their choice. Saldana imparts classy seriousness, elevating the unapologetically amoral proceedings almost every step of the way.
Anybody familiar with the narratively ludicrous but commercially successful nature of Besson's Nikita (La Femme Nikita) and Leon (The Professional) will see Besson's fingerprints everywhere.
When her parents are gunned down after her dad parts ways with crime kingpin Don Luis (Beto Benites), 9-year-old Cataleya (Amandla Stenberg, excellent) escapes via a thrilling parkour-style chase across rooftops, patios and inclined thoroughfares. With Don Luis' vicious minions and certain death just minutes away, Cataleya's father gave her his necklace — taking the time to recount the orchid-related family folklore that goes with it — a computer chip (it's 1992) and a business card, adding "If anything happens, this is your passport."
The ultra-plucky young lass not only evades Don Luis' goons but ducks into a sewer leading to a manhole conveniently located opposite the US Embassy, where that biz card gets her in. The chip's contents are good enough to get her a flight to Miami, where she eludes her government escort in the first of many escapes out the nearest window.
Like most nine-year-old girls raised in Bogota, she figures out how to take a bus all the way to Chicago where the first bad neighbourhood she tries is where her uncle, Emilio (Cliff Curtis) resides.
He's a gangster first seen beating a man to a pulp, but he lives with his mother and promises to keep his niece safe. She makes it quite clear that she wants to be a killer so she can get her revenge on Don Luis.
Fifteen years later in California, that adorable little girl has grown up to be major babe and lethal assassin-for-hire Saldana. Uncle Emilio brokers her killing assignments.
In a genuinely creative sequence during which her talent for slithering through the spacious air vents of movieland is displayed, Cataleya manages to ice a notorious criminal in his prison cell. She leaves her signature — the distinctive outline of an orchid — on the dead man's chest. The flower has appeared on 22 victims in 4 years and FBI agent James Ross (Lennie James), who assumes he's after a man, is as frustrated as he is determined.
Ross thinks the CIA is hiding something, but can't get their cooperation. So he publishes the orchid design and Don Luis gets the message. (Why the info on that computer chip didn't put Don Luis out of business is never addressed because he has to go on thriving until Cataleya is old enough for him to feel her wrath.) It's relentless firepower time.
Saldana is the main attraction throughout. She speaks with conviction, dances sensually and gratuitously in her underwear and executes quite a few gymnastic maneuvers with aplomb. Michael Vartan is ok as the loft-dwelling painter she visits for recreational sex but who knows nothing about her, including her real name.
The rest of the cast is obliged to utter dialogue that runs the gamut from stilted to trite with Jordi Molla having fun as violent psychopath Mario, Don Luis' right hand man who let the young Cataleya get away.
While cartoonish utterances have their place, if Besson and company put as much effort into writing realistic dialogue as they do into riddling people and locations with bullets and blowing stuff up, there wouldn't be quite so many inadvertently funny moments.
Saldana proves herself a worthy new member of the exclusive club of strong women who don't let good looks detract from their smart, resourceful combat skills and enviable grace under pressure. Sigourney (Alien), Linda (Terminator), Anne (La Femme Nikita) and Angelina (Wanted, Salt) — say hello to Zoe.
Production companies: EuropaCorp, TFI Films Productions, Grive Productions
International sales: EuropaCorp www.europacorp.com
Producers: Luc Besson, Ariel Zeitoun
Executive producer: Ajoz Films
Screenplay: Luc Besson, Robert Mark Kamen
Cinematography: Romain Lacourbas
Production designer: Patrick Durans
Editor: Camille Delamarre
Music: Nathaniel Mechaly
Website: www.colombiana-lefilm.com
Main cast: Zoe Saldana, Jordi Molla, Lennie James, Amandla Stenberg, Michael Vartan, Cliff Curtis, Beto Benites