Dir: Zhang Yimou. China. 2014. 111mins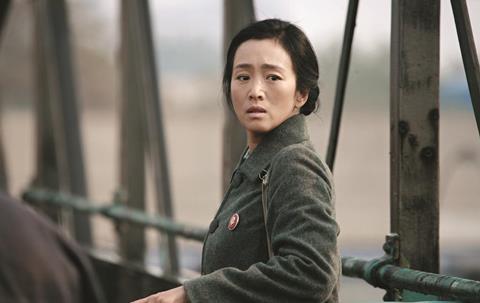 China's foremost director Zhang Yimou is now 64 years old, and the personal pain that permeated his last film to deal directly with the Cultural Revolution, To Live, has faded to a sad resignation and a mood of tender forgiveness in the emotional Coming Home. Reuniting Zhang with Gong Li, the actress he discovered in Red Sorghum and his off-screen partner for many years, Coming Home doesn't try to pick over old wounds. "It's all right, it's in the past now," says one character, digging deep to find the emotional strength to forgive and carry on.
Coming Home fields a big comeback performance from Gong Li, … It's a big, tragic female part, and demanding of the actress – her role is also symbolic and must work on several levels.
Western audiences may find Coming Home slightly sentimental, but it is likely to touch hearts deeply in China where it will be viewed as a step on the road to reconciliation – it opened across the country on Friday to record returns for a drama.
It is almost 40 years since the Cultural Revolution officially ended, and 20 years have passed since To Live was banned at home when it competed in Cannes (winning the Grand Jury Prize and Best Actor for Ge You in 1994). Zhang Yimou himself has gone from being an outcast, to the state-saluted genius behind the Beijing Olympics ceremonies, to a public shaming earlier this year when he was fined over $1m for breaching China's one-child policy.
With Coming Home appearing out of the spotlight in Official Selection, but not Competition, at Cannes, less is riding on this tender eulogy to a dying generation. The experiences of the central couple onscreen, played by Gong and Chen Daoming, will be of great meaning to the adults who endured the Cultural Revolution (1966-76), their largely-uncomprehending children, now in their forties and coming into positions of prominence in China, and the grandchildren who feel so distanced from those times in the modern consumerist PRC. The country's population is rapidly greying, and Zhang connects with its sorrow and regrets here.
In making Coming Home, Zhang is adapting Yan Geling's novel The Criminal Lu Yanshi (he last adapted her work for the commercially-disappointing 2012 film The Flowers Of War). Zou Jingzhi (Riding Alone For Thousands Of Miles, The Grandmaster) has written the screenplay, which opens as the Cultural Revolution is well under way – there is no attempt to describe what has led China to this point. This may require a little prior knowledge for international audiences, although once the tenets are grasped, Zhang's film is structured with elegant simplicity and easy to follow.
Feng Wanyu (Gong) lives alone with her young daughter Dandan (Zhang Huiwen). Dandan is a promising ballerina and up for the lead role in the ballet company's revolutionary dance performance "The Red Detachment of Women". Mother and daughter are informed by the dance school's principal that Lu Yanshi (Chen Daoming) has escaped from a labour "re-education" camp after ten years (Lu is later revealed to have been a French-speaking professor, qualifying him as a revisionist). He is Feng's long-lost husband and the father whom Dandan doesn't even recognize.
Later that night, the fugitive Lu tries to enter his apartment, but is locked out. He attempts to reconnect with his wife at the train station the next morning, but is betrayed by his own daughter. After 20 years of incarceration, Lu is now finally attempting to come home – but another long journey awaits him.
Coming Home fields a big comeback performance from Gong Li, now aged 48. She is required to age considerably throughout the film, which is also reminiscent of the role she played in To Live. It's a big, tragic female part, and demanding of the actress – her role is also symbolic and must work on several levels. Backed by a warm performance from Chen (who takes top billing), she delivers. New discovery Zhang Huiwen has the spark to play a headstrong teenager but mature into a more sympathetic character.
Distancing, slightly colour-leeched images from Zhao Xiading, who shot The Flowers Of War but also Hero and House Of Flying Daggers (for which he received an Oscar nomination) lend the film a dated, period, look, even though it deals with modern history. Much of Coming Home would appear to be shout on a soundstage, giving it an almost nostalgic feel - which would be a cinematic first for a film about the terror of the Cultural Revolution.
Zhang Yimou, who was sent to the country himself as a young boy to work as a farm labourer (Red Sorghum) and in the textile mills (Judou) for 10 years, no longer looks back in anger - although it's probably fair to surmise that biting at the heels of this mood of forgiveness is an awareness that the wounds detailed in Coming Home can probably never heal.
Production company: Le Vision Pictures Company
International sales: Wild Bunch, www.wildbunch.biz
Producer: Zhang Zhao
Screenplay: Zou Jingzhi, from the novel The Criminal Lu Yanshi by Yan Geling.
Cinematography: Zhao Xiading
Editor: Meng Peicong
Production designer: Lin Chaoxiang, Liu Qiang
Music: Qigang Chen
Main cast: Chen Daoming, Gong Li, Zhang Huiwen