The number of deals at last year's American Film Market heralded a thaw in the independent sales sector. Jeremy Kay assesses how the sales arena is looking ahead of this year's AFM (Nov 3-10) while Screen writers profile a selection of English-language market debuts heading to Santa Monica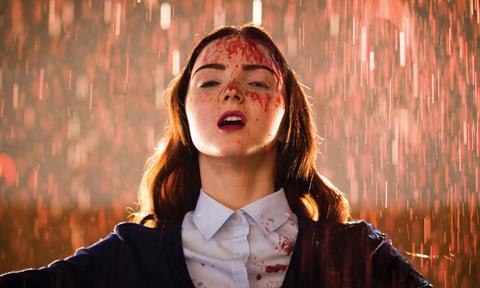 All eyes are on the 2010 American Film Market (AFM) to see if this year's edition can build on the positive outcome of last year's market. A year ago international buyers departed with a clutch of high-profile titles such as Area 51, Buried, StreetDance 3D, Machete and Source Code. But it is still tough out there and sales agents report that acquisitions teams will continue to be lean, focused and cautious.
Toronto inspired around 17 on-site deals for US or North American rights, but the environment and purpose of the Canadian festival is about as far removed from the AFM as it is possible to get. Top-tier domestic deals are few and far between in Santa Monica, where much of what is on sale exists at various stages of production or pre-production.
International pre-sales
While pre-sales for the US and North America are virtually non-existent, they make sense for international buyers with lower p&a requirements in their territories. If the price is right and the distribution plan appealing, expect some healthy business.
After all, who wouldn't want to jump in at an early stage on a project which pits Sigourney Weaver against Robert De Niro (Red Lights) or pairs Ewan McGregor with Emily Blunt (Salmon Fishing In The Yemen)? Both will be under discussion at the AFM.
There are opportunities for astute domestic buyers and the studios, ever eager to fill the pipelines, will be on the prowl for the right combination of title and territory. Bob Berney and his acquisitions team at the fledgling FilmDistrict will also be on the look-out for material, while buyers such as the ambitious Anchor Bay will be keen to continue their Toronto momentum.
Film profiles by Jeremy Kay, Geoffrey Macnab, Nancy Tartaglione, Jason Gray, Chris Evans, Martin Blaney, Wendy Mitchell and Jean Noh

BONNIE AND CLYDE (US)
Shoreline Entertainment will seek to tempt buyers with Cypress Moon Studios' production about the notorious lovers and bank robbers who blazed a violent trail across Depression-era America. Hilary Duff and Kevin Zegers will portray the iconic couple when production gets underway in February 2011 in Louisiana, Mississippi and Alabama. Cypress Moon Studios' head Tonya S Holly wrote the screenplay and will direct the character-driven love story.
International sales Morris Ruskin
morris@shorelineentertainment.com
BURNING MAN (US)
Filmbox head Cedric Jeanson will be over from New York touting this visual treat which stars Matthew Goode as a philandering chef who turns his back on the fast life to reconnect with his son. Jonathan Teplitzky wrote and directed, and the drama also stars Bojana Novakovic (Edge Of Darkness), Essie Davis (Girl With APearlEarring), Kerry Fox (Bright Star), Rachel Griffiths (Hilary And Jackie) and newcomer Jack Heanly. Filming took place over the summer on location in Sydney and at Fox Studios Australia. Filmbox owns worldwide rights to the film outside of Australia/New Zealand, and it has so far sold Burning Man to Svensk in Scandinavia.

International sales Filmbox
COGAN'S TRADE (US)
New Zealand hotshot Andrew Dominik (Chopper, The Assassination Of Jesse James By The Coward Robert Ford) directs this gangster story in the exuberant vein of Quentin Tarantino and Guy Ritchie. Plan B is producing.
International sales Inferno Entertainment
CATCH .44 (US)
Bruce Willis and Malin Akerman star in the story of three female assassins lured into a final job, going up against a psychotic hitman, a trucker and a delusional line cook. Forest Whitaker, Nikki Reed and Deborah Ann Woll also star. Aaron Harvey is directing and Randall Emmett, Megan Ellison and Michael Benaroya areproducing. In post.
International sales Sierra Pictures
THE COLLECTION (US)
Cinema Management Group head Ed Noeltner continues to take bold strides into the genre world after successes with Blood Out, BrotherhoodandThe Collector. The $10m 3D project is a sequel to The Collector, with Marcus Dunstan again in the director's chair. Principal photography is set to begin in December with Mickey Liddell on board as executive producer. Josh Stewart reprises his role as a survivor of the original film, who is abducted by mercenaries at the behest of a millionaire and forced to return to the Collector's lair to rescue the wealthy man's daughter.
International sales Cinema Management Group
THE CONSEQUENCE (S Afr)
Inventive genre fare is always sought after at the AFM. Amanda Evans' The Consequence, from South Africa's Do Productions and to be pre-sold by Intandem in Santa Monica, is billed as "The Birds with baboons". It is a sharp-toothed psychological thriller about a palaeontologist sent to the Karoo desert to find fossil evidence about global warming. She and her family are caught in a primal battle of natural selection.
International sales Intandem Films
DARK HORSE (US)
Todd Solondz is a US indie institution whose films Welcome To The Dollhouse, Happiness and last year's Life During Wartime invariably spark discussion and controversy — and attract the curiosity of distributors. Goldcrest is introducing buyers to Solondz's Dark Horse, produced by Ted Hope and currently shooting. Starring Selma Blair, Christopher Walken, Mia Farrow and Justin Bartha, the film is about Abe (Jordan Gelber), a 30-something who lives with his parents. When he isn't playing backgammon with his mother (Farrow), he is trying to romance Vi (Blair), a 30-something who has moved back in with her parents. The two agree to marry but just when it looks like things are starting to go right for Abe, everything goes horribly wrong.
International sales Goldcrest Films
GHOST RIDER: SPIRIT OF VENGEANCE 3D (US)
Hyde Park International head Mimi Steinbauer has been quietly talking to buyers about the sequel to Sony's 2007 global hit. Columbia will release in North America but independent buyers now have the chance to share the spoils. Nicolas Cage returns as the former motorcycle stuntman who moonlights as a supernatural enforcer and this time must save a young child. A knock-out cast includes Ciaran Hinds, Idris Elba and Italy's Violante Placido, who played George Clooney's love interest in The American. Crank's Mark Neveldine and Brian Taylor were due to commence shooting on November 2 and Sony will release in summer 2012.
International sales Hyde Park International
mimi@hydeparkentertainment.com
THE HOLDING (UK)
This suspense thriller stars Kierston Wareing (Fish Tank) as a woman protecting her daughters from an enigmatic stranger, played by Vincent Regan (Clash OfTheTitans, 300), who enters their lives with sinister motivations.
International sales AV Pictures
A HORRIBLE WAY TO DIE (US)
Celluloid Nightmares has high hopes for Adam Wingard's thriller, which sparked a bidding war following its recent world premiere in Toronto. Audiences (and buyers) lapped it up and the following day a deal concluded with Anchor Bay Films for the US and English-speaking territories. The film follows an escaped serial killer who blazes a violent trail across the country in search of his ex-girlfriend, the person responsible for putting him behind bars. AJ Bowen, Amy Seimetz and Joe Swanberg star. Simon Barrett wrote the screenplay. (Pictured)
International sales Celluloid Nightmares
travis@celluloid-nightmares.com
HORRID HENRY 3D (UK)
Protagonist had a bumper AFM last year with StreetDance 3D and will be hoping for similar levels of business with its next project from Vertigo Films, a live-action 3D version of the hugely popular children's books, Horrid Henry. Anjelica Huston is on board to play the terrifying schoolteacher Miss Boudicca Battle-Axe while Richard E Grant is cast as Mr Van Wrinkle. Vertigo is co-producing with Novel Entertainment, which holds the non-film rights to the Horrid Henry brand.
International sales Protagonist Pictures
bridget@protagonistpictures.com
THE HOUSE OF MY FATHER (CASA DE MI PADRE) (US)
Will Ferrell doing his thing in Nala Films' Spanish-language comedy sounds intriguing enough. Throw Gael Garcia Bernal and Diego Luna into the mix and the result could well become 2011's most unusual comedy. Shooting in California began in September, and Saturday Night Live alumnus Matt Piedmont is directing. Plot details remain mostly under wraps. CAA represents North American rights.
International sales Affinity International
HUNKY DORY (UK)
Minnie Driver has been earning plaudits for her performance in Tony Goldwyn's Conviction, and now she headlines the cast in the latest film from Marc Evans (MyLittle Eye, Resurrection Man). London-based Independent is introducing buyers to Hunky Dory, which just finished shooting in Wales. The film is produced by Jon Finn and Dan Lupovitz. Set in the sweltering summer of 1976, this is the story of a drama teacher trying to put on an end-of-year musical version of The Tempest. To engage her students, she uses hit music of the time. Billed as a life-affirming and nostalgic film, Hunky Dory will feature music from, among others, David Bowie, Lou Reed, The Beach Boys, Simon and Garfunkel, Dusty Springfield and ELO.
International sales Independent Film Company
sarahl@independentfilmcompany.com
IN THE PARK (UK)
Bankside is screening a promo of David Mackenzie's In The Park, a romantic comedy shot at a major Scottish music festival over the summer. Buyers are likely to be intrigued by a project which Mackenzie (Young Adam, Asylum, Spread) shot largely under the radar. The film is about a US pop star and a British rock chick who meet backstage. All they have in common is their mastery of sarcastic wisecracks. As their childish spat gains momentum, a mischievous preacher chains them together. The cast is led by Luke Treadaway and Natalia Tena. (Pictured)
International sales Bankside Films
KILLER JOE (US)
Voltage Pictures will commence sales at AFM on this comedy thriller from William Friedkin. Set to begin shooting on November 8 in Louisiana, Killer Joe stars Matthew McConaughey, Emile Hirsch and Thomas Haden Church as well as Juno Temple, who won plaudits in the Toronto premiere Dirty Girl. The story follows a drug dealer who puts up his sister as sexual collateral in order to get his mother killed.
International sales Voltage Pictures
LIFE IN A DAY (UK)
The star film-making power of Ridley Scott and Kevin Macdonald combines on Life In A Day, the first user-generated feature-length documentary, which HanWay will be launching at AFM. The picture was shot by contributors from around the world on July 24, 2010, who submitted footage via YouTube. The YouTube page for the project already has 28 million hits, and the film will premiere at Sundance.
International sales HanWay Films
MAN ON A LEDGE (US)
Summit International arrives with this high-concept thriller starring Sam Worthington, in which the Avatar star plays a wrongfully imprisoned police officer who escapes and walks out on a window ledge high above New York in a desperate bid to clear his name. Elizabeth Banks plays the negotiator called in to talk him down, unaware of her part in a larger scheme. Jamie Bell, Anthony Mackie, Ed Harris and Edward Burns add further sparkle to the project. Asger Leth (GhostsOfCite Soleil) will direct and Lorenzo Di Bonaventura is producing the film, scheduled for a November shoot in New York. Summit Entertainment will release in North America in the first quarter of 2012.
International sales Summit International
MARGIN CALL (US)
There could be a Sundance play for this financial crisis thriller starring Kevin Spacey, Demi Moore, Paul Bettany, Stanley Tucci, Zachary Quinto and Simon Baker. Early word in the industry says this is a memorable production boasting a fine ensemble — with a dazzling cameo by Jeremy Irons thrown in for good measure. The action takes place in the Wall Street offices of an investment bank during the worst 24 hours in the company's history. Myriad Pictures head Kirk D'Amico and his team are sure to receive a lot of interest. JC Chandor wrote and directed.
International sales Myriad Pictures
THE MOTH DIARIES (US-Can)
From director Mary Harron (The Notorious Bettie Page,American Psycho), The Moth Diaries is an adaptation of Rachel Klein's gothic horror novel set at a girls' boarding school. Lily Cole, Scott Speedman, Valerie Tian and Sarah Bolger star in the film, which recently wrapped. Edward Pressman is one of the executive producers. (Pictured)
International sales Wild Bunch
SALMON FISHING IN THE YEMEN (UK)
Ewan McGregor and Emily Blunt should make an attractive pairing for buyers in Lasse Hallstrom's romance about a government scientist, tasked by a fly-fishing obsessed sheikh to introduce salmon to Yemen. Under pressure to succeed from the British government, the boffin finds time to fall for the sheikh's representative. Filming in London, Scotland and Morocco is scheduled to end shortly before AFM. Simon Beaufoy adapted Paul Torday's bestseller and Kudos' Paul Webster is producing. Kristin Scott Thomas also stars.
International sales Lionsgate
RED LIGHTS (Sp)
Parlay Films' Lisa Wilson will be tempting buyers with this psychological thriller from Buried director Rodrigo Cortes, set to star Robert De Niro and Sigourney Weaver. Production is scheduled to begin in Spain in February on the tale of a psychologist (Weaver) and her assistant who debunk accounts of paranormal activity. Things heat up when they encounter a renowned blind psychic, played by De Niro.
International sales Parlay Films
RETREAT (UK)
A tense thriller shot in North Wales, Retreat stars Cillian Murphy and Thandie Newton as a young couple who head to a remote cottage to rekindle their romance. An injured soldier (Jamie Bell) appears and gives them the news a fatal virus is heading their way. Carl Tibbetts directs and co-wrote the screenplay with Janice Hallett. The film has already been sold by SC Films International to Sony for the UK and Germany.
International sales SC Films International
ROBOTROPOLIS (US-Sing)
Bleiberg, whose slate includes the acclaimed documentary Precious Life, will introduce buyers at AFM to this sci-fi thriller about maintenance robots which go on a killing spree on a corporate campus. A group of reporters covering the unveiling of a new facility maintained by robot prototypes find themselves fighting for their lives as the mayhem unfolds. Bleiberg holds worldwide rights available and will show footage at the AFM. Christopher Hatton is directing.
International sales Bleiberg International
TALL MAN (US)
The $15m English-language debut from French director Pascal Laugier (Martyrs), Tall Man is a small-town thriller about a mysterious figure who is believed to kidnap local children. Jessica Biel plays a mother desperate to track down her child; Stephen McHattie, William B Davis, Samantha Ferris and Jodelle Ferland co-star. Shooting has already started on the film; SND finances and handles international sales. Tall Man is produced by Clement Miserez, (Radar Films) and Steven Schneider (Room 101 Inc). Jean-Charles Levy and Bonnie Timmermann also serve as executive producers.
International sales SND
TINKER TAILOR SOLDIER SPY (UK)
Studio Canal and Working Title have teamed up for this feature adaptation of John Le Carre's novel. Working Title is producing and StudioCanal is financing and handling international sales on the film, which stars Gary Oldman as George Smiley, a middle-aged former intelligence expert who has been forced into retirement but is recalled to hunt down a Soviet mole. The film also stars Colin Firth and Inception's Tom Hardy. Acclaimed Swedish director Tomas Alfredson (Let The Right One In) will make his English-language debut on the film.
International sales StudioCanal
harold.vanlier@studiocanal.com
THE VETERAN (UK)
Intandem will be showing footage at the AFM of Matthew Hope's action thriller The Veteran, starring Toby Kebbell. The film, about a soldier recently returned from Afghanistan who is obsessed with saving a young Anglo-Asian woman from fanatics, is in post. The cast also includes Brian Cox and Bashy.
International sales Intandem Film