Tom Holland, Rowan Athale and Paul Brannigan among 17 BAFTA Breakthrough Brits sipping champagne at the event.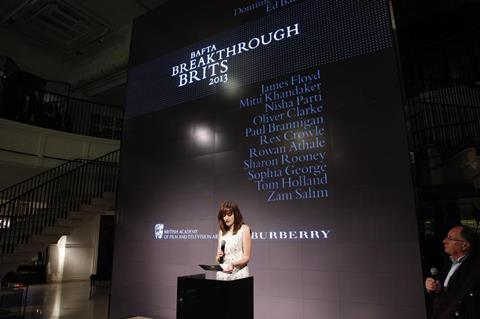 Members of the British film industry mingled amongst bags, coats and scarfs at Burberry's flagship Regent Street store in London last night in honour of BAFTA's inaugural Breakthrough Brits - 17 up and coming talents chosen from across the film, television and games industries.
Actors Tom Holland, Chloe Pirrie, James Floyd and Paul Brannigan (all of whom were previously picked as Screen Stars of Tomorrow) as well as Ade Oyefeso, Sharon Rooney, producer Ed Barratt, and writer/director Rowan Athale (another Screen Star!) were amongst the Breakthrough Brits picked by a jury which included Dexter Fletcher, Eddie Redmayne, Shane Meadows and Abi Morgan.
Guests at the high end event included Warner Bros' Josh Berger, Ealing's Barnaby Thompson, producers David Parfitt and Duncan Kenworthy.
BAFTA CEO Amanda Berry, who introduced the 17 Breakthrough Brits said: "Bafta is world renowned for celebrating the very best in film, television and games, but not so widely known is our work to nurture new talent with exceptionally creative individuals who are just a few steps away from making a name for themselves."
BAFTA chairman David Willis then pointed out that the youngest of the crop, The Impossible actor Tom Holland, was just two years old when Berry took the reins at BAFTA 15 years ago. "Back then BAFTA was more Primark than Burberry," he joked.
Meanwhile, the only downside of the evening was being surrounded by Burberry coats and bags and not being able to take one of them home.
Sarah Cooper is senior writer and feature co-ordinator at Screen International