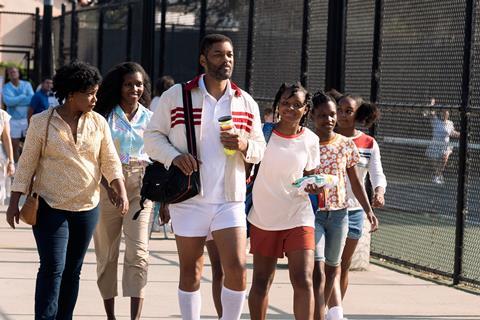 The Golden Globes ain't what they used to be, but to give them credit, they're forging ahead nonetheless. And commentators did give the group credit for its nomination lists this year — two women in the race for best director (Jane Campion, Maggie Gyllenhaal), three Black men nominated for best actor, drama (Denzel Washington, Will Smith, Mahershala Ali).
The list gives a fairly accurate sense of the race as it's shaping up. But there's a question lurking in the wings: how deep do the roots of diversity go in today's film landscape? The upcoming nominations may well go the way of Jane Campion and a second consecutive season of best film awards for a woman — but it's equally possible there will be no filmmakers of colour among the finalists for best film and best director at the Baftas or Oscars, unless King Richard pushes through.
Release calendars don't see colour or sex, just audiences, and in a pandemic-afflicted 2021 it has all been quite random. But it does feel as if there are two issues at play. The first is what is perceived to be an 'awards-worthy' film, and whether that's the type of film which tends to be made by women or people of colour or of differing abilities.
The second is that, even within that category of 'awards worthy', if Barry Jenkins or Spike Lee or Ava DuVernay don't release a film within a calendar year, then that seems to be it for representation of people of colour. And as long as awards are considered to be the ultimate triumph and stamp of an artist — and not entertainment or box office — will we remain in this rather rootless place?
Screen International's own research highlights that Black filmmakers have made up just 1% of the 14 FIAPF A-category festivals' main competition line-ups over the last three years (or eight titles). Considerably fewer if you strip out Jenkins and Lee. There it is again — that elusive stamp of an artist, missing, along with the recognition that goes with it. And with no place at a festival, the funnel to international awards is closed off.
During the same three years, representation of women has moved from 18% to 25% in A-list festival competitions, which is a decent rise — with further to go — but does it mean that 'diversity' is only bringing one group into the room? Or is the kind of thought process that led the London Critics' Circle, for example, to include a female horror filmmaker for best debut (Prano Bailey-Bond, Censor) but not a Black commercial filmmaker (Reggie Yates' Pirates) part of the problem?
The search for an 'important' film that is somehow deemed as 'deserving' of an Oscar or Bafta can often lead to unusual choices. The commercial can be shunned in favour of films that address hot-button issues which often don't feel quite right in retrospect, or even on the night itself (say, Green Book). The films in Oscar and Bafta contention this year for best picture are made by people of enormous talent, who have done their time and learned their craft, from Steven Spielberg (West Side Story) to Paul Thomas Anderson (Licorice Pizza) and Campion (The Power Of The Dog), who shared the Palme d'Or for The Piano in 1993 (she coincidentally lost in the major Oscar categories that awards year to Spielberg's Schindler's List).
That's almost 30 years ago. Spike Lee pre-dated Campion at Cannes by four years, but he still has just a lot of honorary awards and a best-adapted screenplay Oscar to his name despite his defining position in film history. The point being, in a time of dwindling audiences for awards ceremonies, and a sense in the era of streaming that cinema might not always have its finger on the pulse, it may be an opportunity for voters to think radically about what constitutes a best film.
Whether it's No Time To Die, Dune, Shang-Chi And The Legend Of The Ten Rings, Licorice Pizza, The Power Of The Dog, Belfast, King Richard (the only one here to be directed by a Black person), West Side Story or Coda, they're all 'important'. What's just as important is opening up this rarefied hall of awards, where only certain types of film — and, as a result, certain types of people — are admitted.
Bafta and Ampas have opened up to new, diverse memberships: now it's time to free them up.

Screen International's executive editor for reviews and new talent