It is safe to say by this time next year, The Birth Of A Nation will not only feature among the best picture Oscar nominees but most likely will be the first on the list.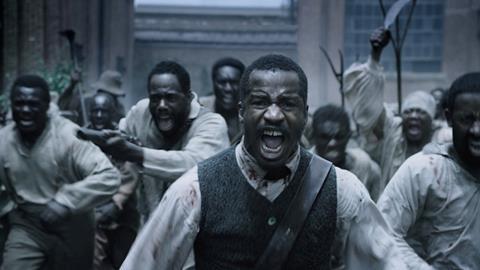 Nate Parker's slave revolt drama erupted in Sundance this week following Monday's world premiere and Fox Searchlight's festival record $17.5m acquisition of worldwide rights.
There could not be a more timely arrival amid the diversity furore that has engulfed Hollywood, partly because of the anger that quite rightly courses through the film. It will be a divisive ticket for that.
#OscarsSoWhite reared its head when the Academy chose not to grant a nomination to a single non-white actor in its 20 available slots earlier this month. The hashtag was coined during the previous awards season when the Academy was perceived to have overlooked deserving non-white performances on that occasion too.
This is inflammatory stuff in Hollywood, where the talent and contribution to the culture and the bottom line of studios and networks by people of colour cannot be overstated.
Such has been the outcry - Chi-raq director Spike Lee, Concussion star Will Smith and his wife Jada Pinkett Smith have all said they won't attend the Oscars on February 28 - that the Academy implemented changes to the way it does things.
Cheryl Boone Isaacs - the body's first black president, who declared herself "heartbroken and frustrated" and vowed change after the nominations were announced - has taken a step in the right direction along with the Academy's chief executive Dawn Hudson and board of governors.
Immediate reforms designed to double the number of women and non-white members by 2020 and increase diversity in the board were unveiled.
But change will take time. Who knows if the body will choose the best candidates for those three new seats on the board now reserved for women and people of colour? Will the broader recruitment drive deliver the goods or become a pastiche of itself?
This week in Sundance, the talk was all about diversity. Some are angered by the nominations, which have also shut out fine work by Idris Elba, Michael B Jordan and Benicio del Toro, as well as Creed film-maker Ryan Coogler and Straight Outta Compton.
Others have expressed discomfort with #OscarsSoWhite and blame the media for creating hype. They argue that deserving performances will get recognition, regardless of colour and without the need for affirmative action.
Lupita Nyong'o won best supporting actress for best-picture winner 12 Years A Slave in 2014. Smith has earned two best actor nods in his career, losing out to Forest Whitaker in 2007 and Denzel Washington in 2002. This is still not enough. There is a paucity of substantial roles devoid of cliché, a by-product of the patrician white power elite that holds sway over the studios and networks and determines what we watch and who our children choose for role models.
A study by the Los Angeles Times four years ago revealed the Academy membership to be 94% Caucasian and 77% male. Only 2% were black, and Latinos accounted for less than that. The data compares unfavourably with figures from the US Census Bureau, which as of 2014 put approximately 14% of the US population identifying as black and 17% as Latino.
The Academy has taken bold first steps to partly redress the balance, but it takes a war of attrition to change a culture. Or a revolt. Fox Searchlight has a mighty contender on its hands with The Birth Of A Nation. It took 12 Years A Slave all the way to the best picture Oscar in 2014 and knows how to make a noise.
Birth is thunderous, Braveheart-like in its charge. Nobody wants to see another whitewash. Yet the hope also is that voters will not be swayed by what others believe they ought to do, but rather by what they feel is right - on this film as on all others.
Jeremy Kay is US editor of Screen International