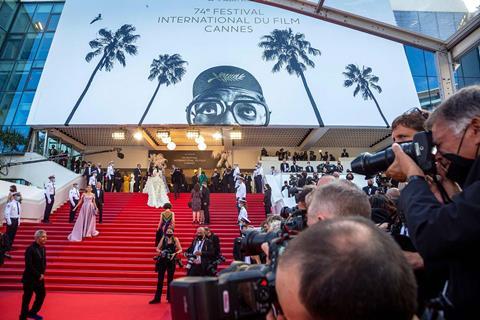 Well, as Chuck Berry sang, it goes to show you never can tell. We didn't imagine Cannes would cancel in 2020, nor expect it would come back bigger than ever in the middle of the Delta variant scare of 2021. Not outsized in terms of delegate attendance, certainly, but more films than ever before and more people and holidaymakers and heat and photo-ops and red carpets and QR codes and PCR spit tests and random celebrity glamour, all puffed out into the South of France in a hot prideful blast of 'Cannes is back'.
C'est la vie, said the old folks.
Cannes 74 was a heady mix of emotions: excitement and happiness to be in business again, concern about emerging from various shades of global lockdowns to being packed cheek-to-jowl in giant cinemas and small bistros. Smoke signals from the Palais were mixed: masks were on and off, social distancing was gone before it even started as crowds piled up and queues lengthened while people tried to find their relevant health status - and tickets - on their sweaty mobile phones. By the final, triumphant night, crowds outside the Palais des Festivals were wearing masks, but the festival president and delegate general most definitely were not as they hugged and kissed what seemed like every unmasked French star - and more besides - in the business. It was almost Trumpian.
Yet triumphant is a better word for Spike Lee's jury, which recognised all the better pictures in the 24-film line-up, yet managed to go big and go young and go provocative by awarding the top prize to the genre-busting Titane, directed by 37-year-old Julia Ducournau (Jane Campion was 39 when she shared the Palme d'Or in 1993 for The Piano). In that choice, Lee and his jury did the right thing - they delivered exactly what the festival, way too far into its own comfort zone with Competition programming, needed. The fact that Ducournau is the first woman ever to win outright, and that all three major awards - the Palme d'Or, Un Certain Regard for Unclenching The Fists, and Camera d'Or for Murina - went to young women was fortuitous and a breakthrough and just goes to show what happens when you open up your juries to full representation.
Even before that, though, Spike Lee owned the Croisette. It may have taken 74 years to get a Black man to head the jury - he was set to do it last year, so, technically, 73 - but the city of Cannes made up for it in amour by plastering his face from pillar to post, tea towels, ash trays, T-shirts, posters, cigarette lighters — wherever you went, Spike was looking down on you. And he paid back: when did the last male jury head display a finer sense of style? The warmth between jurors was palpable in the post-ceremony press conference, and even on-stage during the prize-giving when Tahar Ramin consoled the director for inadvertently letting the cat out of the bag a touch early with a warm hug.
As closing night descended on a beach showing of David Byrne's American Utopia - directed by Lee - Cannes became a full-on party, masks to the wind. And yes, the festival should be applauded for putting on such a wham-bam show, which also encompassed Bastille Day fireworks earlier in the week. Anyone whose last festival was the tightly-organised Venice would have been surprised to find themselves quite so close to their neighbour, yet we do have to resume normal life at some point, and Cannes certainly accelerated that. It did occasionally look haphazard from the seats in the stalls as systems crashed and rebooted, but it also made a huge mark.
Criticism is also due, though, for that same lack of restraint in making the festival so big in the face of changing public health parameters. Films were added with gleeful abandon in Official Selection in what looked like a desire for the festival to reassert itself with more films and more sections, where a quiet calm and authority might have sufficed. A lot of smaller titles got lost, especially given the smaller contingent of critics on the Croisette.
The films, though, Every year has winners and losers, hits and misses. And sometimes, like with 2011's The Artist, and 2019's Parasite, a best film Oscar! Between well-reported run-ins with Netflix and a dominant if not outstanding French selection across the official programme, it doesn't look as if Cannes 74 Competition will throw up a film which is impactful enough for a best film Academy Award. (The festival was, though, very keen to reinforce the connection, with Bong Joon-ho coming in to declare the festival open and Parasite star Song Kang-ho on Lee's jury.)
Our critics will pick their top films from the festival later this week. All our Cannes reviews can be viewed here. In the spirit of coming together post-lockdowns, we won't give you a worst-of. For a selection though that ranged from the silent awe of Memoria to the silent awe at Paul Verhoeven's audacity in using a statue of a Virgin Mary as a sex toy/key plot point in Bernadetta you have got to say, though, with gusto, that Cannes is back.

Screen International's chief critic and reviews editor