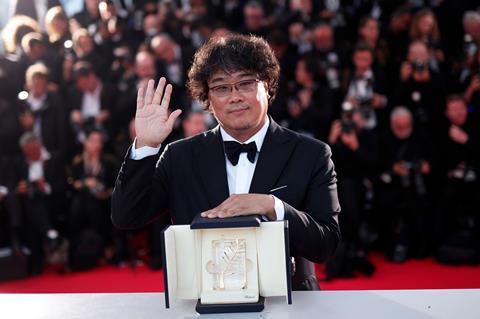 The idea that Cannes might go ahead intact in 2020 even as the world fell apart around it may have been a self-delusion of the defeated, but it was a comfortable one all the same.
Of course we complained that the festival was taking too long to cancel, but, you know, rabbits and hats, happy endings and the power of magical thinking: that's the nature of the business we work in, we can be forgiven.
Emmanuel Macron's announcement on Monday that public gatherings in France are now banned until mid-July (at the very least) was a cruel twist in an unhappy story for the festival, the country and a great swathe of Europe. The news today that Critics' Week and Directors' Fortnight have cancelled, with Official Selection left to reel through a final act alone, may have been expected, but, gosh, it felt sad.
Of course the movie business is no different to any other: why should a festival or even would a festival expect to surge ahead when a country is locked down and everything in it has ground to a halt – the wheels on the Tour de France have stopped turning (a new date of August 29 has been mooted), the French Olympic team has stood down. The industry is a dream factory, though, churning out fantasies every day, and there's no reason to expect that anyone who works in it is hardened to them. Why not hope for the last-minute goal, the hero's journey ending in some sort of breakthrough for the industry?
(There will be a breakthrough; it just won't be what we imagined.)
With a full Official Selection of finished films at his fingertips, opinion will be split between whether Cannes delegate general Thierry Frémaux is foolish, vainglorious even, to hang on, or if his is a noble quest which will be vindicated by events. Is he a Don Quixote, stubbornly tilting at that 35mm windmill? But Cannes means more to cinema than the sum of its parts: it is not an exaggeration to say that it has become the repository for its independent soul. The year's best film Oscar winner, Parasite, came from the 57-film Official Selection of 2019.
Frémaux has dripped hot scorn on the idea of online screenings, but the business is hopping like a pressure cooker full of finished titles – where will they land once it bursts? Cannes is holding; Venice selectors are screening (many of the same titles), yet neither can be certain that they will have a home to offer these suddenly-orphaned, yet much cherished, precious films. Being on an island – the Lido – may be something that works in Venice's favour come September; the idea of a European festival, while the Americas look to Toronto, is also something worth bearing in mind. (Ironically, once this pressure cooker burst is over, the pot will be all but empty thanks to the global shut-down on production, but let's cross that Bridge of Sighs when we come to it.)
It's always smart to look to the East, ahead in the Covid-19 curve and a place where the Shanghai Film Festival is proceeding with its June edition at the time of writing (in a country which is admittedly closed to any visitors whatsoever and whose cinemas are locked in stop-start mode). Even it, too, may move to August.
Today, we know this much is true: the online Marché du Film will go ahead on June 22. Critics' Week, created in 1962, will not happen (11 films in 2019). Directors' Fortnight, set up in 1969, will not happen (24 films). ACID, the independent French cinema sidebar, will not happen (nine films). Together they would have screened, more or less, 44 titles, and shone a spotlight on new filmmakers. But, again, Cannes is more than the sum of those numbers.
These are hard times for the world and that the dream/delusion of a Cannes preserved intact in aspic – or seen through a glass of rose – for the industry to revisit at some point in 2020 is over is not a nightmare, a disaster, a tragedy, or anything of the sort. There are plenty of those around and they are all too painfully real. Frémaux and his programming team seem prepared to fight on, and good luck to them. They're not hurting anyone with their final-reel quest: these films will eventually find a home, it's a question of logistics.
The industry will adapt and survive: it's comprised of obstinate fighters who think nothing of spending a decade, even more, to bring a project to the screen. They weren't defeated by talkies, colour, TV, digital or streamers; they put on the Oscars during the ravages of the Second World War. They'll survive this virus. The show will go on.
Gosh, though. It still feels like sad news all the same.