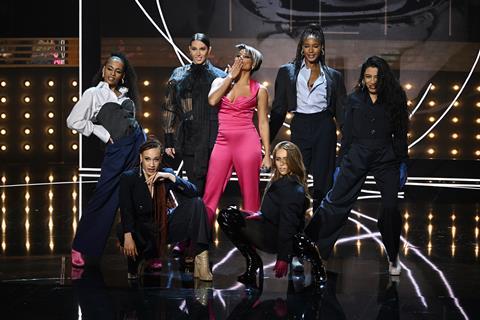 It seems like you had to be there, for a minimum of 180 mins – less time than awards flops Babylon or Bardo, so nothing to hardy Bafta voters. The UK reviews for Bafta's TV show, incorporating its first-ever partial live broadcast on BBC1's primetime Sunday-night roster (Call The Midwife was cancelled!) were negative. The room, at the Festival Hall in London's South Bank for the first time, liked it, though. A lot.
TV and in-person were two entirely different experiences. The UK industry adores Richard E. Grant, and the warmth towards him in the room was palpable. TV critics would prefer compering the Baftas to be more of a blood sport, but Grant is an integral part of British cinema, and his nervousness drew reassuring shouts of support from the crowd during breaks.
The audience of almost 2,500 guests, all navigating the iconic Royal Festival Hall's jigsaw assembly of stairs, barely saw co-host Alison Hammond's sofa chats, as the clock ticked towards the live element of the show – the final four awards – and padding was thrown in to stop everyone from leaving the room (once Banshees won outstanding British film, the writing was on the wall for All Quiet, which had been storming ahead all night). The audience was also treated to high drama, edited out for broadcast, when Troy Kotsur's interpreter called out Carey Mulligan's name for Kerry Condon's best supporting actress win. "This is a bad moment," he intoned. Indeed, it was, but at least no punches were pulled.
Popular winners included Barry Keoghan (best supporting actor) and Martin McDonagh (the Irish contingent was noisy all night), and while Eddie Berger no doubt ran out of things to say between his repeated trips to the podium, thanking the Netflix awards team by name was a new one. All Quiet's cinematographer James Friend made a bashful speech, which was appreciated, as was Condon's enduring gratitude to her horses and chickens. The musical interludes were somewhat bewildering, though, at home and on stage: great to see Little Simz collaborating with Joan Armatrading, but why? Likewise for Dylan's bland lip-syncing, or even Ariana DeBose's gutsy but somewhat patronising 'Sisters Are Doing It For Themselves' number (they were, it must again be pointed out, doing absolutely nothing in the best film nominees list).
Moving from the Royal Albert Hall in South Kensington to the brutalist Royal Festival Hall building in London's South Bank followed an example set by the London Film Festival two years ago, and was widely welcomed. Backstage access is better, said the army of professionals working this mammoth event. Nobody had to – literally – run around in circles trying to find each other. And it was a one-stop shop. Champagne flowed before the ceremony in the venue's various bars, all with stunning views of the Thames on an unexpectedly sunny afternoon (largely split between nominees/presenters at the Skylon Bar, and the rest of the audience on Levels 5 and 6).
The challenge of shutting down the entire venue and feeding all attendees a lavish meal was daunting. For anyone who has been to the somewhat under-used, light-filled building, it's worth painting a picture: all the ground floor windows were completely blacked out, as was the central box office and bar (which were covered in black drapery). It was like being in a club, especially when after-dinner drinks of Old Fashioneds came around on a tray. The blitz of sequins and extravagant frockery had places to go though, and the train (or dress trains) left the RFH by around 11pm into the after-parties around town.
So, as mentioned, viewers at home and at the hall had two very different experiences. Elements which enraged the critics such as Hammond's sofa chats or Geri Halliwell's appearance a quarter of a century after Spice World, barely registered. But, sadly, neither did the red carpet: there was no live broadcast within the auditorium, and only scant reaction shots for the 2,000 attendees not sitting in the front seats. It was interesting, though, to see how many nominees had to walk so far down the auditorium to the stage: the winners certainly weren't known to the seating planners in advance.
The question will now be whether to extend the live part of the Bafta show: technically, it worked very smoothly in the room, so why not excise red carpet footage, sofa chats, random celebrities and smaller awards in favour of we're-in-this-together simulcast? For those, though, who say the awards format is dreary, it is what it is. A stage, a presenter, and films: the best nights are like last night, when the films were great and nobody knew which was going to win. Triumphs all round.