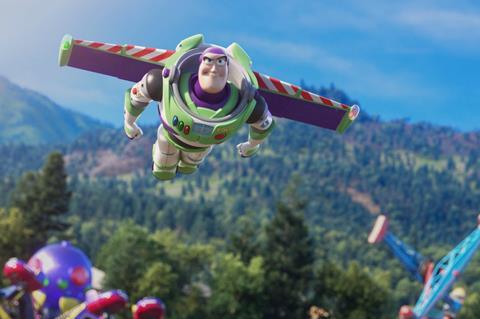 The Disney juggernaut barrels across the distribution landscape with a momentum that shows no sign of slowing in 2019. Five of the studio's tentpoles have already crashed through the $1bn global box-office barrier, with Toy Story 4 the latest to join the club. Frozen II and Star Wars: The Rise Of Skywalker open in the coming months and must be odds-on to make it seven by the end of the year.
Disney currently commands 40% of North American box-office share and has single-handedly prevented comparisons with 2018 box office from becoming an embarrassment. By mid-August, North American ticket sales for the year to date trailed last year's at the same stage by 6%, while the summer was tracking behind by roughly 1.5%. Imagine what box office would look like without those Disney hits. Besides Sony's Spider-Man: Far From Home and, to a lesser extent, Universal's Fast & Furious spin-off Hobbs & Shaw, most releases have barely turned up.
Market dominance
Quentin Tarantino's Once Upon A Time… In Hollywood from Sony is the only original film this summer to cross $100m in North America. Danny Boyle's Yesterday from Universal has done well too, on $70m and counting. The flipside is hard to stomach. More sequels and spin-offs than usual have suffered — Godzilla: King Of The Monsters, Men In Black: International and X-Men: Dark Phoenix.
Disney benefits this year from an extraordinary confluence of blockbusters, and as always the studio owes so much not just to its gifted partners, but the supreme talent at the top. Chairman and CEO Bob Iger was well aware the studio would take a financial hit after it absorbed the entertainment assets of 21st Century Fox. Accordingly, Iger tasked his film lieutenants Alan Horn and Alan Bergman to knock that slate out of the park in 2019, and they have duly obliged, setting a $7.67bn global box office industry record with five months of the year to go. Hollywood's first $10bn year is Disney's to lose.
What's likely to be exciting Iger even more is the launch of the Disney+ platform in November. He pursued Fox to feed the streaming pipeline, not the theatrical distribution roster. Noting a $170m third-quarter loss for Fox, Iger has activated the next step, basically terminating a storied studio's theatrical modus operandi. Of all the big Fox imports, only Avatar, Deadpool, Planet Of The Apes and X-Men will be exploited with theatrical in mind. Fox Searchlight still feels vital, while the rest of the intellectual property will be picked apart to provide opportunities for Disney+ and Hulu.
Paying mere lip service to the Fox slate does not bode well for the future of content diversity at the world's largest studio. Yet without bankable franchises to their name, it's hard for the others to catch up with Disney when audiences can choose from a range of platforms and storytelling. Distributors need to recoup — as do producers and financiers. Hence the proliferation of deals with Netflix, Hulu, Apple and Amazon Studios.
Speaking of which, look at Amazon Studios. Sundance acquisition Late Night flopped, and shortly thereafter head of marketing and distribution Bob Berney departed. Studio head Jennifer Salke, a TV veteran, is cutting back on the original theatrical release model of putting select titles in theatres for up to 90 days. Both The Aeronauts and The Report will get a two-week theatrical uplift before launching on the platform to cater to a broader audience.
The trick is to get people into the theatres. The snag is many theatrical campaign executives seem to have forgotten how. Megan Ellison's Annapurna is a case in point, and finds itself in a battle for survival after a string of poor box-office performers. We seem to be at an inflection point: is it better for the studios to swim against the tide and offer a viable theatrical alternative to streaming platforms, or go with the flow and become somewhat less potent content suppliers in the new economy? There isn't much time to work that out.


Jeremy Kay is Screen's US editor based in Los Angeles.