The journey to the Academy Awards' shortlist for Quo Vadis, Aida? was not easy, and poses questions.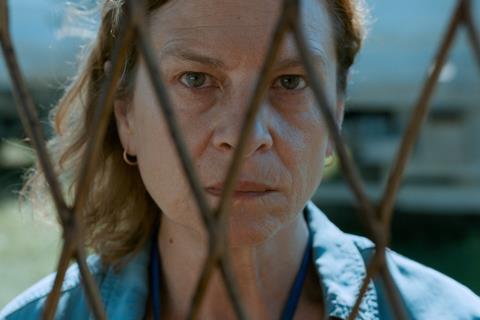 It is a long, expensive corridor to Academy Awards success, and just because this is an unusual year doesn't mean it has become any cheaper for the smaller films to position their wares in front of voters. For the past 12 months, since Covid-19 first shuttered cinemas, the festival/exhibition/awards model has been slowly cracking under pressure: it seems unlikely to reconstitute itself in exactly the same way. To look at the route to Oscars this year is to count anomalies and ask honest questions of ourselves.
One that is pertinent right now is the case of the Oscar-shortlisted Bosnia & Herzegovina submission Quo Vadis, Aida?, an important, nail-biting drama from Jasmila Zbanic that puts the viewer in the eye of the storm at Srebrenica. Reviews were warm, emphasising its approachability, and indeed some key international territories were sold on its Venice 2020 premiere. But crucially, it left the festival empty-handed with no recognition from the jury. Consequently, it didn't secure a US distributor (Neon's boutique label Super Ltd) until it hauled itself onto the international feature film longlist.
Quo Vadis, Aida? is a case of once seen, never forgotten, but it was hard to push people to see it. And there is certainly a missed opportunity for the film's lead Jasna Djuricic, who could easily have been in contention for acting with the right push. But coming from so far behind means the film bucked expectations by even making it to the final five in the international feature film category. Bosnia is a small country, without the resources of a France or even a Poland to pour into promotion. Further festival wins counted for a lot, but the producers still had to hold their collective breath and pool their savings in advance of late campaign support from Neon.
Amid many questions this year is the unanswerable one of why Quo Vadis, Aida? received nothing at all (even grand prix, script, director) from Venice's jury, led by Cate Blanchett and including Christian Petzold, Joanna Hogg and Matt Dillon? Here's another: why is US distribution for films like Quo Vadis, Aida?, perceived to be a hard sell, still so dependent on juries? Why are juries still so white across the board of the major film festivals when, surely, we know better by now? (Spike Lee will this year be the first black person to chair the Cannes jury.) What will this exceptional period change?
The festival world is in flux. Online events have shown dramatic increases in accessibility for audiences. For professional critics, barriers have been torn down — those who can't afford a 10-day trip to a festival and/or ensure their children are cared for have been able to see all the films, not just those in the major sections. This can only be beneficial to the industry as it rediscovers itself post-Covid-19.
That three best film nominees came from Sundance 2020 — Promising Young Woman, Minari and The Father — means the festival has premiered one-third of best picture nominees this year, more than anyone else, and that's before Park City's access was widened this January. Toronto 2019 title Sound Of Metal, also a best picture nominee, is from the same section as Moonlight — Platform. When you add Venice's Golden Lion winner Nomadland, you can see how important festivals have been in this unexpected year. But as long as distributors remain so risk-averse — and this is likely to continue — it becomes even more important for juries to get it right.
The fact nine of this year's Oscar acting nominees are non-white, and for directing two are women and two are non-white, means we can expect — in fact demand — to see more representation on festival juries going forward. Chloé Zhao, Riz Ahmed or Viola Davis will naturally be Alberto Barbera's first port of call when it comes to this year's Venice jury. More representation, different voices on the jury, more audiences, more critics: it's a bigger table, and while it has been for a smaller screen, there's no reason why a hybrid model can't continue. The studio/exhibition sector's difficulty has been the indies' — and their natural allies, the festivals' — opportunity. Thoughts should move towards how to consolidate it.

Screen International's chief critic and reviews editor