Sydney Freeland reveals what it's really like to attend the Sundance Directors Lab, and to learn to be more spontaneous on set.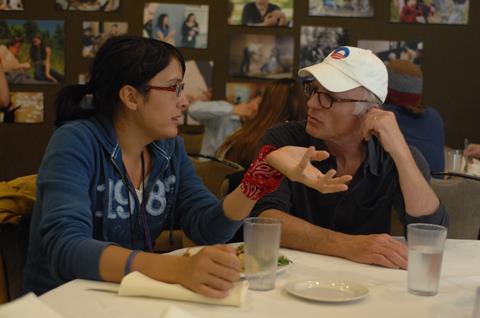 I'm speechless.How do I even begin to describe one of the most amazing, challenging, rewarding, and intense experiences of my life? Perhaps a good place to start is by telling you what kind of filmmaker I was before participating in the Sundance Directors Lab, compared to the filmmaker I am now.
I am not an organised person in real life, but when it comes to filmmaking I take a very calculated approach. I storyboard everything. I floor plan everything. I will stay up until 5 am prepping and working through as many problems as possible. The majority of my directing work has been with first-time actors so I suppose this type of planning grew out of necessity. But I also think it's because one of my biggest fears as a director is not knowing what to say.
Before the Directors Lab began, we (the 8 directing fellows) were asked what our two biggest filmmaking fears were. Here is what I wrote:
1) I am afraid of being unprepared. I can improvise, but I don't have enough experience to get by without storyboards.
2) I haven't done a lot of work with professional actors. My fear is not knowing what to tell an actor.
The lab lasted three weeks (starting June 1), one week of workshops and exercises, followed by two weeks of shooting. For the shoot, we directed four scenes from our script. Shooting followed a schedule that went something like this: one day rehearse, one day shoot, one day edit. This process was repeated for each scene.
The first week of the Lab started off pretty straightforward. We did acting and directing workshops with the amazing and incredible Joan Darling. We had camera and technical lectures with the equally incredible Gyula Gazdag. We got to meet with some of the most talented and creative filmmakers in the industry. I got to watch films from the other directing fellows and see just how scarily talented they all are (look up and remember their names, because you're going to see a lot of them in the future). What I learned during that first week rivaled three years of film school. I was totally blown away. And that was just week one.
The second week began and we (My crew and I — known as Team Red) shot the first scene from my script, in which an alcoholic boyfriend comes home to his pregnant girlfriend after a night of heavy drinking. The boyfriend was played by an amazing actor from New York, EJ Bonilla (Law and Order) and the girlfriend was played by another amazing Utah-based actress, Nenetzi Scott. I had given the scene my usual storyboard and floor plan treatment and felt well prepared for the shoot. But a funny thing happened on the day. After watching a take through the monitor (to make sure we got the shot that was storyboarded), I was pulled aside by one of our advisors. It was suggested that on the next take I watch the actors and not the monitor. I decided to try it, and then an amazing thing happened. We got to the end of the scene and I was preparing to call cut, when I noticed EJ was not quite ready to stop. I encouraged him to keep going and he improvised an alternate ending to the scene that left my DP and I in tears. I never would have seen this if I was watching the monitor and referencing storyboards.
With scene two, we decided to try and be a little more spontaneous. I would go entirely off monitor and see what happened. Scene Two was a confrontation between a mother and daughter about a suppressed family secret. The mother was played by Irene Bedard and the daughter was played by Q'orianka Kilcher (The New World). What I realized working with actresses of this calibre was that they were good to go from the very first take. They hit the ground running and the best thing for me to do was shut up and get out of their way. Because of this, we began the day shooting close-ups and ended the day on a master, the exact opposite of what was on my shot list.
I was encouraged by advisors to keep pushing the idea of spontaneity, so for Scene Three we intentionally went in without a game plan — no storyboards, no floor plans. Scene Three was a final, crucial confrontation between the same mother and daughter. We found our blocking, shot list, and everything else on the day. In the process, I found that this freed me up and I got to work very closely with the actors. We got great performances and we finished our shoot day early. Go figure.
Our fourth and final scene involved a very talented first-time actress named Kym Yazzie. I had professional actresses to work with in our second and third scene, so this could be a real way to test myself. Could we take the same spontaneous approach and have success with a first-time actor? The scene was a little lighter in tone than the previous scenes; our character was a transsexual who expresses her aspirations to become a "real" woman. Without boards or floor plans to distract me, I was able to focus on being present with our actress and give her the freedom to explore her character. Needless to say, Kym did a great job and gave us an amazing performance.
Looking back, I can't believe how much we accomplished and how much I changed as a filmmaker. I had the privilege of working with a great crew (go Team Red!), learned from our experienced advisors, and got to work with some amazing actors. It took some coaxing but I am glad I was pushed out of my comfort zone. If I learned anything from the Directors Lab, it's that not knowing can lead to some pretty amazing things.
Directing is an entirely new experience for me now. It isn't just about getting shots anymore. It's also about providing a space for the actor to invent and create. That's not to say I'll stop using my old approach. There is definitely a time and place for that kind of organisation. But directing is all about possibilities now, a prospect that is both frightening and exciting.
So how do I sum up my time at the Sundance Directors Lab, one of the most amazing, challenging, rewarding, and intense experiences of my life?
Well, I'm speechless. But I think that's point.
About the author: Sydney Freeland attended the Lab with her project, Drunktown's Finest, and was named the 2010 George S. and Dolores Doré Eccles Foundation Directors Lab Fellow. Her feature film is about three Native Americans — a rebellious father-to-be, a devout Christian, and a promiscuous transsexual — who come of age on a reservation. Freeland was also a 2009 Sundance Institute Native Lab fellow, a 2008 Disney Fellowship semi-finalist, and a 2007 Disney Scholarship recipient. She has an MFA in film and a BFA in computer animation. Freeland received a Fulbright scholarship in 2004 for a field study of indigenous peoples in Ecuador. She splits her time between Los Angeles and New Mexico.