The female cast and crew of the forthcoming feature pose with the ancestors of Emmeline Pankhurst.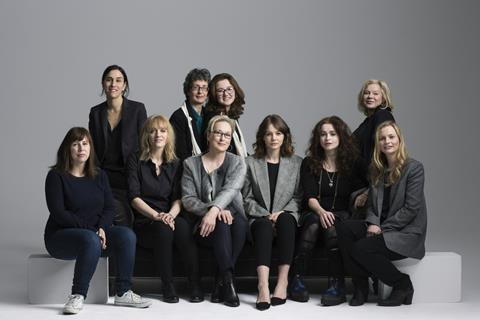 The women behind upcoming period drama Suffragette have posed for a portrait in support of this year's International Women's Day (March 8).
Back row: Sarah Gavron (director), Helen Pankhurst (great-granddaughter of Emmeline Pankhurst), Laura Pankhurst (great-great-granddaughter of Pankhurst), Alison Owen (producer). Front row: Abi Morgan (screenwriter), Anne-Marie Duff (actor), Meryl Streep (actor), Carey Mulligan (actor), Helena Bonham Carter (actor), Faye Ward (producer).
Directed by Sarah Gavron (Brick Lane), the film stars Carey Mulligan, Helena Bonham-Carter and Anne-Marie Duff as well as Oscar-winner Meryl Streep as women's rights activist Emmeline Pankhurst.
The cast and crew are joined by the great-granddaughter and great-great-granddaughter of Pankhurst, who led the Suffrage movement in the early 20th century.
Pathé released the photo, which was taken by Brigitte Lacombe.
The film centres on the foot soldiers of the early feminist movement, who turned to violence in the fight for equality after the failure of peaceful protest.
Mulligan plays lead character Maud, a character who becomes radicalized and turns to violence as a route to change.
"Every daughter should know this story, every son write it on his own heart," said Streep, who plays a small but crucial role in the film.
Suffragette director Gavron said: "International Women's Day celebrates the achievements of women throughout the world and I am overjoyed that my film can be part of that celebration."
On International Women's Day, filmmakers will be joining Helen and Laura Pankhurst for the CARE International "Walk In Her Shoes" event, a public walk to show solidarity with women and girls worldwide who still endure inequality and injustice.
The public are invited to join the walk at The Scoop outside London's City Hall at 10am on March 8.