Digital media business Portal Entertainment has launched an immersive iPad app adventure, The Craftsman.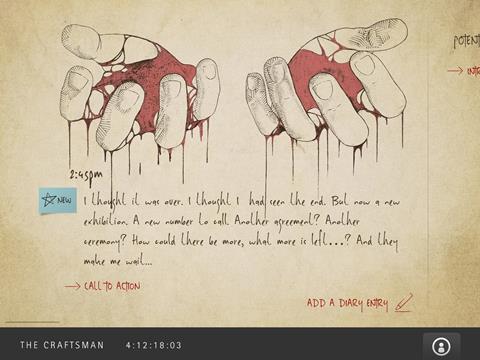 The £9.99 game, aimed at middle-aged men, tasks users with solving a mystery after discovering information which they receive via a range of channels including live action film and taping into the device functions such as the camera, email and and calendar reminders.
The adventure takes place over a five-day period, with the first day available for free, although users are able to pause and pick up the game as often as they need.
The game has been developed following funding from Creative England, the Technology Strategy Board, the EU Media Fund and private investment.
Portal founder Julian McCrea said the aim was to put the audience inside the story.
''What unites all the team is a love of thriller/horror genre/market and a nerdy level of fascination with Alfred Hitchcock," he said. "We asked ourselves, 'how would Alfred Hitchcock tell a story today?''
URL: http://www.portalentertainment.co.uk/
Developer: Portal Entertianment