COMMENT: Dan Tozer of law firm Harbottle & Lewis talks through five challenges facing VR makers.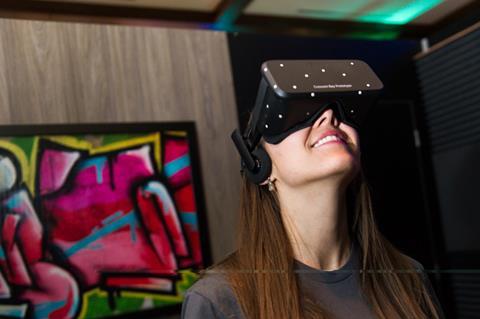 Faced with the ever-increasing prominence of virtual reality, many film-makers are now exploring potential moves into the new medium. But what are the potential legal pitfalls that any producer should be aware of? Ahead of next week's VR Creative Summit [book here] at London's Picturehouse Central on December 6, Dan Tozer, who leads the commercial technology practice at law firm Harbottle & Lewis, provides some insight.
1. Rights clearances could be more complicated
"As with all productions, rights clearances are a significant factor, but creating virtual worlds may increase the task. Have you ensured that you have obtained the broad content, brand and image rights needed to create your immersive experience?
"The interactive nature of VR experiences means that rights owners won't necessarily be able to exercise the same degree of control (and approval) over the ways in which their rights are used as in traditional media, although they may of course still expect to do so. Rights agreements may take longer to negotiate."
2. Collecting user data comes with legal responsibilities
"Consumer immersion in virtual worlds will in most cases involve the collection of personal data. When someone registers their details to an account in order to enter a virtual experience, personal data is collected. Any subsequent data then collected about that person's interaction or engagement with their experience will, when matched to their account, in most cases constitute personal data.
"This data presents great opportunities for producers to learn about audience engagement with their VR experience but this comes with significant legal responsibilities. Readers will likely have heard about the arrival in May 2018 of the General Data Protection Regulation (GDPR), which represents the most significant change in European data protection law in a generation. GDPR will still be relevant even in a post-Brexit world. GDPR will very likely become law before any departure of the UK from the EU. After that point, GDPR will continue to be relevant for any businesses with EU customers, and even for UK-only businesses the UK seems likely to continue to adopt a GDPR-based approach to data protection issues.
"GDPR builds on existing laws governing the collection and use of personal data. The highlights of the new regime include: requiring businesses to have legitimate grounds to collect and process personal data; requiring individuals to be clearly informed about the data which is collected; imposing stringent security requirements; and requiring a "privacy by design" approach to development.
"The fines for non-compliance have also been significantly increased. The UK's data protection regulator currently only has the authority to issue fines of up to £500,000 for serious breaches of data protection laws; maximum fines under GDPR will increase to the greater of €20m or 4% of worldwide turnover. Yikes. Data protection compliance is about to get much harder."
3. Health and safety warnings
"VR experiences must be designed to accommodate appropriate health and safety notices and warnings.
"One of the perceived challenges to the early widespread adoption of VR has been the side effects and health and safety risks associated with its use. Motion sickness, nausea, blackouts, behavioural changes and eyestrain were most commonly cited during the launch of early VR prototypes but real-world falls, bumps and trips are also problematic. There are plenty of YouTube clips of VR users so immersed in their virtual world that they forget that a virtual table or door won't withstand their weight (ouch).
"A key question in the context of VR is who is responsible for injuries associated with its use. Although VR experience producers may perceive health and safety issues (and therefore liability) as a consideration only for hardware manufacturers, inevitably that isn't always the case.
"When designing virtual experiences and worlds, in order to minimise issues and mitigate liability, producers would be well advised to build in appropriate safety warnings to remind users of reality. For example, warnings not to lean on virtual objects that don't hold real weight and that controllers aren't virtual objects. Also, to what extent can users in your interactive multi-user VR experience interact with each other? Can they threaten each other – or even physically hurt each other (perhaps with haptic technology)? What safeguards should you put in place to prohibit this, or allow it with appropriate warning?
"Many users will be familiar with the various safety features built into Nintendo's Wii games platform, such as the repeated warnings not to play continually for too long a period, and the safety straps on the controllers to prevent them from flying off and damaging people or property during a particularly energetic game of tennis. The base principle here is the same; consider the potential risks for your users and consider what you need to do in relation to such risks."
4. Ad campaigns can be more misleading in VR
"Advertising the VR production itself requires consideration of the usual advertising rules. Advertising and marketing of other products within the VR production (such as product placement) brings a number of new potential challenges.
"Firstly, the immersive nature of VR means that poorly-constructed campaigns constructed within virtual worlds have a greater potential to be misleading to consumers, potentially increasing legal exposure. Secondly, in-experience advertising could bring with it significant challenges for rights owners that have limited control over the ways in which their brands are used, perceived or engaged with, in interactive worlds. The regulation of advertising in a VR production depends on how it is distributed.
"To the extent that a VR production is broadcast, it must comply with OfCom's Broadcasting Code; otherwise the Advertising Standard Authority's CAP Code of Non-Broadcast Advertising, Sales Promotion and Direct Marketing will likely apply.
5. Normal age ratings might not apply
"The immersive nature of VR experiences is far more impactful than more conventional, linear media. That, of course, is the point. VR adoption is still in its relative infancy meaning that as an industry we're still learning about its impact on youth development. However, generally speaking, the more immersive the experience (including through haptic feedback, vibrations, body movement tracking etc.), the greater the perceived potential risk to minors.
"Inevitably, this will have a significant impact on the VR age rating classifications. Currently, film / TV and video games classification systems don't explicitly address VR as a separate media for classification, but the inherent nature of VR experiences will surely be taken into account when the rating is calculated. You should expect a conservative approach to be taken to age classifications for VR experiences."