Hugh Jackman and Melissa Leo talked about the dark kidnap drama alongside director Denis Villeneuve and producer Kira Davis.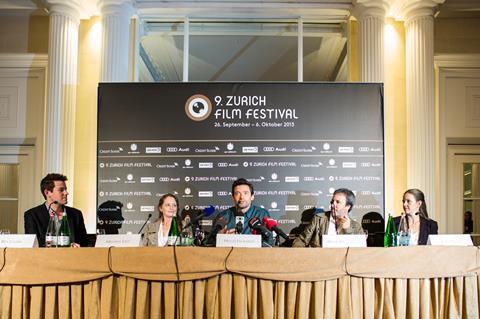 The press conference, hosted by the 9th Zurich Film Festival where Prisoners will receive a gala screening tonight [Sept 28], was held at the Hotel Baur au Lac.
Was a relief when you wrapped making this tough movie?
Hugh Jackman: It is cathartic to watch and it was cathartic to be in. But it was a lighter set than you might imagine. My experience of film-making is the better the quality of director, crew and actors, the more relaxed everyone is. I'm now saying it's not intense at times, it is. But when there's anxiety about "I'm not sure we can get there", that's greater than actually going there.
I'm not saying there were practical jokes or that it'll make for the greatest blooper reel of all time but it was relatively relaxed because it was a great script and everyone had great characters. Actors yearn for roles that have this moral ambiguity, depth and intensity and sense of reality.
My uncle worked at the International School of Geneva his whole life. I just remembered as I flew in that I would not be here today were it not for Switzerland. My parents met in Interlaken. My father was a ski instructor, dance instructor, spoke four languages and swept my mother off her 19-year-old feet. So if it wasn't for Switzerland, there would be no Hugh Jackman.
Melissa, you're on the jury here too.
Melissa Leo: I arrived a couple of days ago so my feet are a little more on the ground than the world travellers beside me. When the opportunity came up to be on the jury, I leapt at the chance to spend 10 days in Zurich. Two days into it, I'm having a wonderful time.
Is the most difficult of your roles on an emotional level?
HJ: Yes, this was the most difficult. When the read the script or watch the movie, about 10 minutes in the character goes into a kind of Hell. The difficulty is this sustained intensity and not to generalise it and make this journey specific and interesting for an audience.
A lot of people wonder where actors go inside and what we draw on but 90% of acting is connecting with the people opposite you. When you have great actors, you draw on them because it's very rare in film that you're on your own. But even if you are, the cameraman represents the audience. You're always communicating. Acting is like dance. You're only really as good as your partner.
What talent do you enjoy most and what is most difficult?
HJ: I came late to acting. Acting is the first for me. When I dance I have to act otherwise I feel like a complete fraud. When I sing it's the same thing. I'm the only actor in history to have it in his contract when I first got a musical that I had to have a singing lesson every week. The producers paid for me to have singing lessons. I thought my agent was on drugs when she put me up for a musical. Lo and behold I got it and was terrified. The most scared I've ever been was when someone asked me to sing the national anthem at a big rugby union game in Australia. They assumed I was a singer but I had to say: "No, I was in a musical but I was that guy. I can't go out as Gaston from Beauty and the Beast and sing the national anthem." It was a real headtrip for me.
Is it more difficult to get original films made and were these challenges you faced in making Prisoners?
Kira Davis: It is more challenging, especially if something's not a commercial, obvious movie that isn't categorisable. We were very lucky in that Alcon Entertainment – who is the financier of the film and our producing partner – loved the script as much as we did and were able to embrace it and see that it could have a life outside of the norm. When we got Denis on board that really took the steam and then Hugh and the other cast. It is more challenging but we were blessed to have a company that embraced it.
How did you approach the cinematography of the film?
Denis Villeneuve: The look was inspired a lot by the weather in that specific period of time. Roger Deakins and I were inspired by photojournalism. But nature inspired us and actors. It was my first American film so I really wanted to be over-ready to do this film. I usually like to improvise. When Roger came on set the first day, he saw the storyboards and threw them away. From a lighting point of view, Roger is very precise. There are no coincidences. Everything has to be planned in advance. In terms of frame, Roger is inspired by actors. I just had to see where Roger was sitting in the room and I knew where the camera would be. He's a master with such a strong visual instinct and a genius with light. It was like going back to school to see him working and to work with him. It was a privilege.
ML: It was beautiful to watch Roger and Denis work together. You would have thought with Roger's experience on a lot of major films it would be him leading Denis but that wasn't the case at all. The respect Roger showed Denis and the film he was making was beautiful. When Mr Deakins said: "Stand here," for the very end of the film when it was dark night outside, I said okay but in all the film work I've done, I've never seen my eyes lit – behind those glasses at dark night – the way they were lit in those final frames by Roger. It's amazing to watch.
This is probably your darkest role to date. Why did you take the part?
HJ: It was a challenge in the type of emotions the man has to go through. The singularity of his purpose and determination. I have a soft spot for this type of character. I have the feeling of a man who has tried so hard all his life to become the best version of himself and it's heartbreaking how quickly it unravels. I loved the story. I thought it was an ambitious and unconventional thriller. I had not done a movie like that.
The truth is that I did not say yes to the film until Denis Villeneuve came on board because it's difficult to make a film that's entertaining, gripping, suspenseful, a whodunit it and a drama with many layers with a lot to say and is thought-provoking and moving. It took a film-maker of Denis' experience and heart to bring that over. For all of us, Denis was the tipping point.
What is the secret of your way of directing?
DV: The more I learn about actors, the more I love them and want to share creativity. I like to trust them and give a lot of freedom.
ML: Denis has a great deal of humanity and that was apparent after we met him. We all signed up because of Denis. Spending five minutes with him, you discover a humanity and gentle way about him that we could feel safe in this dark water.
HJ: It's funny you mention water because I think of a film like a river with many rivulettes and there are strong currents. You want them to be strong. I presume directors want actors to come in with opinions and wanting to make the role and set their own. You want everyone to come in with that strong current but film is a directors medium. Denis has a rare quality in Hollywood to be collaborative and want those strong currents. When it's time to say "No, this is the way," he knows how to do that too. You don't want to stamp on creativity, you want to push it along. All of us had that trust.
Do you think your character is a hero or a monster?
HJ: I can't think of him as either, particularly playing him. The actor has to fall in love with a character and not judge. The strength of the film is that it does not give easy answers like Keller Dover is a hero or monster. It makes you question. It does subvert the general archetype of the avenging, vigilante-type hero. It turns it on its head. I watched the film with my wife and she was holding my hand for about an hour and a half and then I noticed the time she let go and it did not come back. But that's the power of the movie. It reminds us how easy it is the judge and how futile that is unless the walk in the shoes of the people in this situations and not just the parents but the policemen and everybody.
ML: I think Hugh Jackman is a hero but it's my opinion that Keller Dover and Holly Jones are not so far apart.
Are you in Neill Blomkamp's new film?
HJ: Yes, that's true. In case my wife is waking up in New York, reading this article, I am taking a break and Neill's film starts in 2019. It starts next year. I'm off for three months. It's unusual for me to do so many films in a row but every one, particularly this film, felt compelling to me and I begged her and my kids and they were understanding to a certain degree. So it's time for me to go home now.
But I am doing a role in Neill's new film, called Chappie, which we shoot in Johannesburg. I'm there for a couple of weeks at the beginning of next year.
Barnum has been on imdb for about four years. I'll be honest, I thought it would stay in active development because new musicals are very difficult but just recently it's taken a real turn and there's some real momentum so watch this space.
Unbound Captives is another difficult project to get up. It's a western and a difficult drama so fingers crossed.
Houdini is a possible Broadway project and I'll make a decision on that in about a month.
Award
HJ: I really feel for my family because I go home tomorrow morning and if they haven't got an award for me, I'm walking out of the door. This woman here is one of the greatest actors around. I'm humbled by the festival and the award they are giving me and I'll put it in front of my kids at breakfast to get the respect I deserve.