Dir/scr: Craig Zobel. US. 2011. 90mins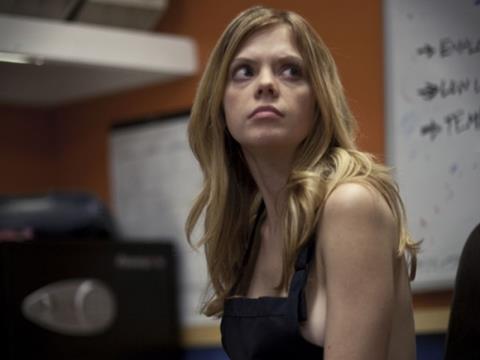 Psychologically astute and brilliantly executed, Compliance is a challenging, sometimes uncomfortable film whose premiere Saturday morning at Sundance was met with walkouts during the screening and then angry accusations of misogyny and exploitation from a few attendees afterward. But such hostile reactions misunderstand that writer-director Craig Zobel's superb drama-thriller is the best sort of provocation: one that cuts to the heart of difficult ethical questions about the nature of power, but does so with enormous empathy, smarts and skill.
Compliance succeeds fully, thanks both to Zobel's lack of condescension and his exceptionally naturalistic cast.
In the wake of Compliance's memorable debut in Sundance's NEXT section, the film's backers will no doubt hope to capitalise on the polarizing audience response, which inspired trade stories and an instant social-media frenzy. Beyond that controversy, though, Compliance remains a limited commercial prospect, largely owing to the fact that it has no stars. Still, strong reviews and a simple, buzz-worthy premise – a sadistic prank call produces fascinating, horrifying results – could make this a must-see among discerning art-house audiences.
Based on true events, Compliance starts off as a deceptive slice-of-life portrait of small-town America reminiscent of Zobel's first feature,Great World Of Sound. Sandra (Ann Dowd) is the middle-aged, put-upon manager of an Ohio fast-food restaurant who has to contend with bored young employees like pretty blonde Becky (Dreama Walker).
But a hectic day suddenly becomes far more serious when a man claiming to be a police officer (Pat Healy) calls Sandra, saying that he's spoken to a recent customer who has accused Becky of stealing money out of her purse. Concerned about wanting to do the right thing, Sandra takes Becky into a backroom and follows the police officer's telephone instructions about what to do, which start with innocuous examinations of Becky's purse but then grow more twisted – with Sandra never questioning the caller's true motivations.
A beautifully wrought high-wire act, Compliance doesn't do much to hide an important plot point that the audience will soon realize: The caller is definitely not a police officer but instead a man with some mysterious agenda. But the film's genius comes from its recognition that the viewer will be in on the scam quicker than the characters will be – and that rather than mocking the characters for their stupidity, the film seeks to examine how such scams can so easily happen when individuals blindly follow the instructions of someone in power. (The film ends with a statistic that 70 similar phone pranks have occurred across the U.S. in the last decade, and some of Compliance's kinkier and more upsetting moments come directly from those cases.)
It takes an enormous amount of sensitivity to present to the audience what is essentially a meticulous sociological experiment in which we don't feel superior to the characters, and Compliance succeeds fully, thanks both to Zobel's lack of condescension and his exceptionally naturalistic cast.
Tops among the performers are Dowd, whose Sandra is a study in misplaced pride and buried resentments, and newcomer Walker, who magically transforms Becky from a seemingly callow young brat into a terrified victim stripped of her self-worth. But not to be overlooked is Healy as the unknown caller: Using mostly his voice, he becomes a dangerous yet oddly convincing authority figure who helps push the frightening action forward. Compliance may not always be easy to watch, but for its insights into human behaviour, it is riveting, unforgettable viewing.
Production companies: Dogfish Pictures, Muskat Filmed Properties, Low Spark Films, Bad Cop/Bad Cop
International sales: Cinetic Media, www.cineticmedia.com
Producers: Sophia Lin, Lisa Muskat, Tyler Davidson, Theo Sena, Craig Zobel
Executive producers: David Gordon Green, James Belfer, Carina Alves
Cinematography: Adam Stone
Production designer: Matthew Munn
Editor: Jane Rizzo
Music: Heather McIntosh
Website: www.compliancemovie.com
Main cast: Ann Dowd, Dreama Walker, Pat Healy, Bill Camp, Philip Ettinger, James McCafrey