Dir/scr: Anca Damian. Romania–Poland. 2011. 72mins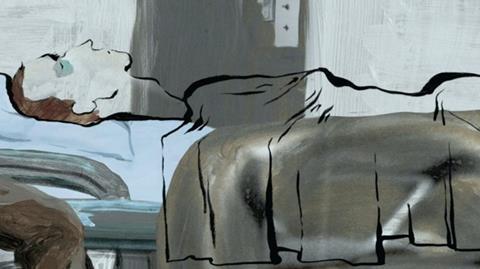 Based on the life and death of Claudiu Crulic, a 33 year-old Romanian who went on a hunger strike and died in a Polish prison, maintaining he was an innocent man, Anca Damian's animated feature attempts to give as dry and dispassionate a version as possible of a case which caused quite an uproar in Romania, too late to help because it reached the media only after Crulic's death.
The animation may not be lively enough to sustain the first half of the picture, but the second part is considerably more effective.
Audiences unfamiliar with the entire affair might find the first half of the picture a bit bland for its taste, another fictional tale of a young Romanian gone astray in foreign lands, but once the real sense of the tragedy and miscarriage of justice settles in, Damian's intention comes into focus and makes its points quite succinctly before the end. The film screened in competiton at the Locarno Film Festival.
Using a mixed technique of collage, drawing and a bit of live action thrown in for good measure, and accompanied by the calm, unhurried, heavily-accented narration provided by one of Romania's top actors, Vlad Ivanov, Damian leisurely unfolds a typical story of a boy born into a poor family, whose parents separated when he was four.
Left in the care of his father, he is passed over to his uncles and aunts, moving through his childhood from one house to another. Before he could finish high school he was put to work in a garage, and later travelled with his uncle across the border to Poland, bringing back all sorts of trinkets still unavailable at the time (early nineties) in Romania.
His parents and sisters left Romania to look for a better life in Milan and Turin, through Crulic kept commuting between Romania, Poland and his family in Italy. One day, a Polish judge had his wallet stolen and Crulic, who had been previously accused of theft, is identified from a picture and condemned to jail.
He claims he had left Poland and was in Italy on the day of the theft, and had evidence to prove it, but the Polish legal system turned a deaf ear. The Romanian consulate in Warsaw suggests he rely on Polish justice, at which point Crulic was left no alternative but to go on a hunger strike, demanding a new lawyer and the reopening of his case. His condition, though, became critical with the doctors in charge far too slow to react and by the time they did, it was already too late.
Starting with Crulic's death and working its way back to cover his entire life, the Romanian narration, supposedly that of Crulic himself, and the English one coming in for objective observations, insert - but never underline - the irony of the circumstances, allowing the audience itself to draw the conclusions.
The same goes for the images, spreading a veil of black humour over the narrative stream. Essentially black-and-white with patches of colour (blue eyes, drab brown walls) to emphasise certain points, the animation may not be lively enough to sustain the first half of the picture, but the second part, a kind of non-political version of Steve McQueen's Hunger combined with matter-of-fact comments on judicial negligence and blunders, is considerably more effective.
The final shot of Crulic's soul taking flight from its prison is a nice poetical touch for the end. The spell is broken by post-credit newsreel footage, in which it becomes evident Crulic was not in Poland when the theft was committed, that all the authorities involved, in Poland and in Romania, considered they have acted properly from their perspective and when the Romanian Minister of Justice extends his resignation, it is not because he feels responsible in any way, it is just the tragic outcome of the case that leave him no choice.
Production companies: Aparte Films
International sales: Wide Management, www.widemanagement.com
Producer: Anca Damian
Artwork/animation: Dan Panaitescu, Raluca Popa, Dragos Stefan, Roxana Bentu, Tuliu Oltean
Sound design: Piotr Witkowski, Sebastian Włodarczyk
Music: Piotr Ziubek
Voices: Vlad Ivanov, Jamie Sives