At a St. James's Palace Q&A, Dench talked turning into a bird in Tim Burton's upcoming Miss Peregrine's Home for Peculiar Children and how she ended up in The Chronicles of Riddick.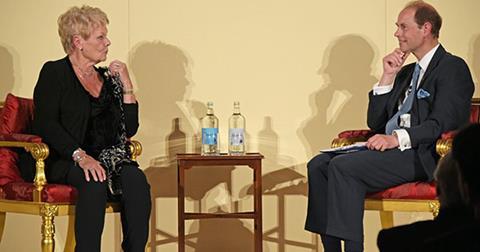 Dame Judi Dench shed light on upcoming projects and past follies during a St. James's Palace Q&A hosted by HRH Prince Edward last night.
The Skyfall and Philomena star told a select gathering that working on Burton's latest film Miss Peregrine's Home for Peculiar Children had been a "fantastic experience."
The actress described feeling invigorated by filming various fantastical scenes, including one in which she transforms into a bird and awkwardly flies into a cave.
Dench also said she was thrilled to star alongside Samuel L. Jackson, who plays the story's antagonist known as Barron.
Prince Edward later quizzed Dench on one or two of her more unusual roles, including how she became involved in 2004 Sci-Fi The Chronicles of Riddick alongside Vin Diesel.
She recalled: "He [Diesel] came to see me at the Haymarket Theatre and sent me a bouquet of flowers that they couldn't get up the stairs…You can't say no to a man like that!"
Dench also talked through her favourite experiences in film: "Billy Connolly [who played alongside Dench in Mrs Brown] was sublime on set…same with Steve Coogan [who starred with Dench in Philomena]. They wiped the floor with everybody."
The Q&A was arranged by charitable foundation Films Without Borders, which helps young people from challenging backgrounds become involved in film production.