Dir/scr: Todd Solondz. US 2011. 85mins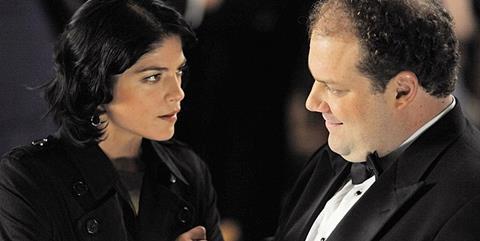 Don't expect Todd Solondz's usual level of squirm-inducing provocation from Dark Horse. Low on taboo content (the queasiest humour here concerns Hepatitis B), this character portrait cum anti-romcom is no stronger in content than much American TV humour of the Curb Your Enthusiasm school - and arguably, Solondz's films have helped shift the parameters of what's acceptable in mainstream comedy.
Dark Horse plays it straighter and sometimes broader than we're accustomed to with Solondz.
Even so, Dark Horse, accomplished and witty as it is, seems like treading water, at times even like a step back for a writer-director who is certainly among the most individual and downright intelligent of his generation. But Solondz's repute, plus smart casting, will give it respectable commercial prospects, with the absence of shock content or overt experimentation making it a more mainstream-friendly contender than other Solondz films
Unusually for Solondz, this film focuses on one character, Abe (Gelber), an overweight, unambitious, toy-fixated man in his 30s, still living at home with his staunchly suburban parents (Farrow, Walken), and discontentedly working for his estate agent dad Jackie as an accountant.
Chronically depressed and embittered, Abe likes to project a cheerful up-'n'-at-'em demeanour, and considers himself a 'dark horse', the sort who'll triumph in the final stretch. In the opening scene - featuring the trademark Solondz 'table shot' - Abe meets and takes a fancy to beautiful but damaged Miranda (Blair).
After one quasi-date, he proposes, and eventually, unexpectedly, she accepts - only to admit, in a scene of trenchant Solondzian cruelty, that marrying Abe would consolidate her renunications of all her life's ambitions.
The film continues in this vein of acidic character comedy, shot in a vividly-coloured four-square style that overtly echoes classic TV sitcom mise en scène. But things later take a fantasy-like left turn, with Jackie's solicitous secretary Marie undergoing a deliciously unpredictable metamorphosis - Donna Murphy magnificently stealing the film at this point.
Less formally challenging than Solondz's highly conceptual Palindromes or Life During Wartime, Dark Horse plays it straighter and sometimes broader than we're accustomed to with Solondz. But the film is nevertheless highly self-reflexive: at one point, Solondz seems to send up our preconceptions of his worldview when Abe launches into a monologue complaining that "We're all horrible people… Humanity's a fucking cesspool". In fact, Solondz manages to suggestion that there is at least some tenderness in the world, if you can get beyond the ugliness and idiocy of everyday life in the West.
Cinematographer Andrij Parekh and designer Alex DiGerlando perfectly serve Solondz's cartoonish vision, especially with colour - variously drab and garish interiors are horribly eloquent about their inhabitants, and the sight of a gruesomely coiffed Walken in screaming orange polo top is one of the more outré pleasures here. Indeed, Walken's grey-faced, grey-minded dad is one of the film's prime surprises, and the cast typically enjoy themselves with the character extremes.
As the abject yet oddly likeable Abe, Gelber gives a terrific performance that gives the film its emotional approachability, suggesting a solid nugget of compassion at the heart of Solondz's satirical stance.
Production companies: Goldcrest Films, Double Hope
International sales: Goldcrest Films International, www.goldcrestfilms.com
Producers: Ted Hope, Derrick Tseng
Executive producer: Nick Quested
Cinematography: Andrij Parekh
Production designer: Alex DiGerlando
Editor: Kevin Messman
Main cast: Justin Bartha, Selma Blair, Mia Farrow, Jordan Gelber, Donna Murphy, Christopher Walken