Disney/Marvel's superhero epic spends third consecutive week at the top of the chart; Warner Bros.' gothic comedy opens in third.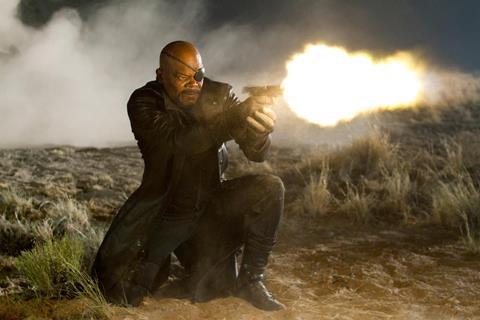 For the third week in a row, The Avengers - Marvel Avengers Assemble in the UK - reigned supreme at the UK box office.
Disney's superhero team-up took a further $6.7m (£4.2m) to stand at an extraordinary $64.9m (£40.3m) to date, the third best performer of the last 52 weeks in the UK with The Inbetweeners Movie's $72.5m (£45m) haul firmly in its sights. It's the third film this year to achieve a trio of consecutive number ones, following War Horse and The Woman In Black, and no film has yet made it four weeks at the top.
It faces tough competition to do so next week as well with the arrival of Sacha Baron Cohen's latest comedy The Dictator, which opens on Wednesday (16). Cohen's previous two solo efforts Borat and Brüno have made $10.1m (£6.2m) and $8.1m (£5m) respectively on their debuts.
In a repeat of last week's top two, Universal's comedy American Pie: Reunion held firm in second after adding $4.1m (£2.5m) for $19.7m (£12.2m) after two weeks in play. Reportedly the final instalment of the popular franchise, Reunion is closing in on American Pie's $22.6m (£14m) tally, but still has a way to go before matching the series' high of American Pie 2's $29.4m (£18.3m) bounty.
With an estimated $4.0m (£2.45m) opening from its 515 sites, Warner Bros.' Dark Shadows opened decently in third but failed to dislodge the established top two.
The eighth collaboration between Tim Burton and Johnny Depp couldn't get close to their previous film Alice In Wonderland, which took a whopping $17.0m (£10.6m) on its opening. Indeed, out of Burton/Depp's live action offerings, only Edward Scissorhands and Ed Wood made less on their debut at $1.0m (£632,052) and $99,768 (£61,895) respectively, the latter did only open on 15 sites though.
Falling one place to fourth was Warner Bros.' romantic drama The Lucky One, which took a non-final further $744,000 (£461,796) to stand at $3.8m (£2.7m) after ten days of release.
Disney's 3D re-release of Beauty And The Beast rounded off this week's top five, adding $676,325 (£419,814) for $3.0m (£1.8m).
This week sees saturation releases for Paramount's The Dictator and Momentum's much-buzzed about The Raid, which will open in around 290 sites. Network Releasing's 2 Days In New York receives a wide release.
For more of Screen's box office news, analysis and charts, visit our new Box Office section by clicking the icon below.