Dir: Tommy Wirkola. Norway. 2014. 101mins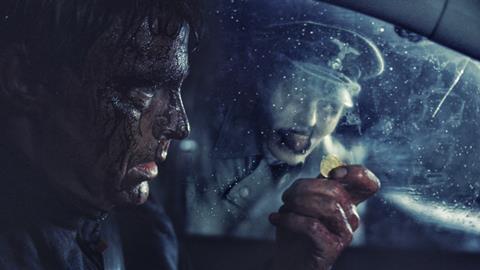 Gory and goofy, Dead Snow: Red vs. Dead follows in the bloody footprints of the 2009 original, once again pitting humans against marauding Nazi zombies. For two films now, director Tommy Wirkola has found plenty of ways to make this cheeky franchise entertaining and irreverent, combining camp and horror in such a way that it feels fresh no matter how derivative its elements are.
Red vs. Dead seems designed to appeal to whooping fanboys at midnight screenings across the planet.
The first Dead Snow was a cult favourite, and Wirkola has subsequently raised his profile by directing the 2013 Paramount release Hansel & Gretel: Witch Hunters. Nonetheless, this sequel will mostly be of interest to genre buffs. (It was announced at the film's unveiling as part of Sundance's Midnight section that Red vs. Dead isn't quite finished, its premiere in Norway still about three weeks away.)
Picking up right where the first movie ended, Red vs. Dead reintroduces us to Martin (a nicely deadpan Vegar Hoel), the sole survivor of a group of friends whose trip to the mountains was interrupted by an attack by dead Nazi soldiers who had become zombies. Assisted by a small group of zombie hunters from America (led by the sublimely dorky-cool Martin Starr), Martin vows to kill off the rest of the zombies now that they've left the mountains and headed into Norway's more populated areas.
The original Dead Snow was a buoyant, tongue-in-cheek tribute to 1970s and '80s horror movies — specifically the teenagers-out-in-the-woods slasher films — but for the sequel Wirkola mostly ditches the direct homage for a more conventional action-horror adventure. But considering that Red vs. Dead isn't particularly scary, it's a good thing that Wirkola has amped up the comedy, finding sufficient humour in village residents' confusion and terror as these zombies wreak havoc in their quiet little communities.
Of course, much of the laughs come from the shock of gore that Red vs. Dead delivers on a pretty regular basis, with the best running gag involving Martin's unfortunate discovery that his severed right arm has been replaced with a zombie's arm, giving him freakish, uncontrollable strength.
When Wirkola came to Hollywood to make Hansel & Gretel, his cheerfully over-the-top style didn't mesh with studio moviemaking, trampling the underdog charm of the original Dead Snow. Happily, that sly spirit returns with Red vs. Dead, which allows him to indulge his B-movie enthusiasm unencumbered. While some of the jokey references fall flat — a supporting character who likes to spout Star Wars lines at crucial moments gets old fast — Red vs. Dead largely plays like a greatest-hits of trash-cinema pearls. Big hand-to-hand battle scenes, gross-out kills, unstoppable tanks laying waste to everything in their path, awesome slow-motion sequences of warriors going into combat: Red vs. Dead seems designed to appeal to whooping fanboys at midnight screenings across the planet.
Not surprisingly, there's not a very compelling story here — Martin and the American zombie hunters have to resurrect a squadron of Russian troops who defeated this particular group of Nazis in World War II — but narrative dullness matters less than a light touch. And that's what Wirkola provides, avoiding succumbing to lazy self-parody to instead come up with a rollicking, utterly disposable diversion that only desires to put a big, stupid grin on your face. It's just a shame that drive-ins don't exist anymore: Red vs. Dead would probably be a ball to watch that way.
Production company: Tappeluft Pictures
International sales: Elle Driver, www.elledriver.fr
US sales: XYZ Films, http://xyzfilms.com; CAA, http://caa.com/
Producers: Terje Strømstad, Kjetil Omberg
Executive producers: Wayne Marc Godfrey, Robert Jones, Nick Spicer, Todd Brown, Stig Haug, Geir Eikeland, Tommy Wirkola, Stig Frode Henriksen
Screenplay: Tommy Wirkola, Vegar Hoel, Stig Frode Henriksen
Cinematography: Matt Weston
Editor: Martin Stoltz
Production designer: Liv Ask
Music: Christian Wibe
Main cast: Vegar Hoel, Stig Frode Henriksen, Ørjan Gamst, Martin Starr, Ingrid Haas, Jocelyn Deboer