Moonlight and Manchester By The Sea are showing themselves to be serious contenders this awards season.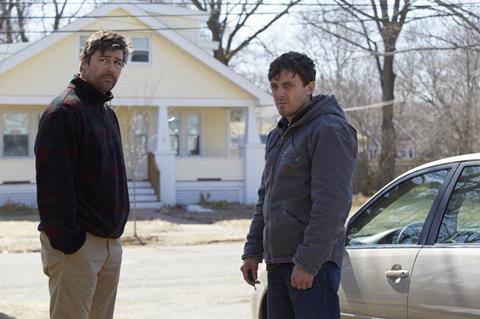 How thrilling that two independent features have been making all the running in the big categories so far this season. This time of year is usually an opportunity for the minnows to shine.
What impresses about Moonlight and Manchester By The Sea, however, is their emotional heft: they pack a punch inversely proportional to the amount of money it cost to make them.
Moonlight's record four wins at the Gothams (best film, screenplay, ensemble, audience award), coupled with two from the idiosyncratic National Board of Review (director, supporting actress for Naomie Harris) and six Independent Spirit nominations, make it the frontrunner at this early stage. Best picture and best director for Barry Jenkins must be locks for Oscar nods come January 24.
Nobody would have predicted this back in August as the holy trinity of awards-season launchpads Telluride, Venice and Toronto charged into view. There had been rumblings about Moonlight, then Telluride and Toronto happened and we saw for ourselves what a striking film-maker Jenkins is turning out to be.
His storytelling talent was evident in 2008's Medicine For Melancholy. Yet his sophomore effort is a bold step up - an immersive, strangely exotic yet intimate triptych that any film-maker would be proud to count as their own.
Besides film, directing and writing, Moonlight is very strong in the supporting acting categories: Mahershala Ali and Harris are as good as anyone out there.
Kenneth Lonergan's National Board of Review film of the year winner Manchester By The Sea is half a step behind Moonlight at this stage, but it is a brilliant film - the true sensation of Sundance - and will gather steam as the season rolls on.
It would be unwise to view the Gothams and Indie Spirits as the be-all and end-all when it comes to harbingers of Academy Awards success. Sure, trophies and nominations build momentum, but expect to hear more noise from Manchester By The Sea in the weeks to come.
Lonergan missed out on an Indie Spirit directing nod, an inexplicable decision that will almost certainly be consigned to history once the critics groups weigh in.
Few directors get such consistently exceptional performances from their entire cast, and Lonergan's latest completes a hat-trick of extraordinary films starting with You Can Count On Me in 2000 and continuing with the troubled Margaret, which was eventually released in 2011.
And in Affleck, Manchester By The Sea has the clear frontrunner for best actor. In my opinion it is the American performance of the year and the Academy Award is his to lose. It doesn't matter that this is a weak season for lead actors; Affleck would stand out in any year.
We can expect to hear more from La La Land, Fences, Arrival, Hacksaw Ridge, Jackie and maybe Loving and Silence in the weeks ahead.
Academy voters have been impressed in particular with La La Land and Hacksaw Ridge. The latter's violence may play against it, although it didn't stop Mel Gibson's Braveheart from winning the best picture and directing Oscars in 1996.
Returning to the two frontrunners, it is exciting to see who's backing them. Amazon Studios has enjoyed quite the year with the big $10m play in Sundance for Manchester By The Sea and a slew of distinctly auteur-driven films in Cannes.
Amazon founder Jeff Bezos still cares more that we stay on his website to buy shoes or refrigerators, but if he is going to spend wads of cash on film to attract us there, great. The richest arthouse distributor on the planet is backing a Kenneth Lonergan film and we are the better for it.
A24 fully financed Moonlight and is another venture that is not short on cash, though clearly not in the Amazon league. Executives loved the script so much they decided to take the plunge - and this kind of patronage of the arts deserves to be applauded.