Dir: Chris Renaud & Pierre Coffin. US-France. 2010. 95mins.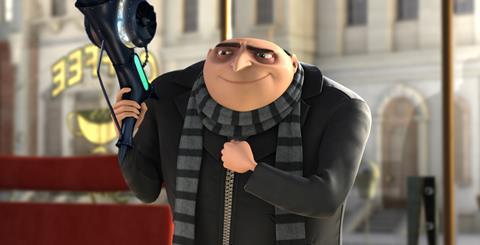 Reframing the hero's journey around the story of an ambitious villain whose quest for notoriety stems from maternal approval he never received as a child, the 3D animated film Despicable Me delivers a steady stream of colourful, unfussy engagement. An imaginative visual design, compelling characterisations and witty interplay between the two elevate a tale whose component parts are otherwise quite familiar.
The movie's futuristic and imaginative sci-fi gadgetry variously recalls Meet The Robinsons and Cloudy With A Chance Of Meatballs.
While Toy Story 3 will continue to exert a strong pull on family audiences throughout the summer, there should be plenty of room in the marketplace for this potential franchise-in-waiting. An easily translatable, visually-rooted story should help the film connect in robust fashion internationally.
When a younger, upstart rival villain, named Vector, steals one of the Egyptian pyramids, somewhat bumbling veteran schemer Gru aims to outdo his rival and hatches a plot to steal a Shrink Ray, use it on the moon, and bask in all the subsequent glory. To penetrate Vector's lair and help enact his plan, Gru adopts three little orphaned girls, sisters Margo, Edith and Agnes. His exasperation surges, but Gru soon finds his villainous instincts uncomfortably at odds with awakening twinges of compassion.
On a narrative and structural level, Despicable Me is as comfortable as an old pair of house slippers. In both his gruff exterior and arc of emotional thawing, Gru is reminiscent of Dr. Seuss' Christmas-stealing Grinch, while the movie's futuristic and imaginative sci-fi gadgetry variously recalls Meet The Robinsons and Cloudy With A Chance of Meatballs.
Apart from a pair of throwaway gags (most notably a reference that brands Gru's "Bank of Evil" as formerly Lehman Brothers, the troubled American financial services firm), Despicable Me relies in rather straightforward fashion on its characterisations for its humor. The script is in some ways rather pleasantly uncomplicated, relying largely on visual gags rather than overwritten dialogue. Many laughs, particularly for kids, are derived from the pre-verbal slapstick antics of Gru's gaggle of pint-sized, eraser-like, yellow minions, who recall Fraggle Rock's Doozers.
Steve Carell's accented vocal performance is pleasantly differentiated from his small screen persona. Indeed, many of the voice actors are cast a bit against type, and the film's stubborn insistence against exploiting their personalities for stand-alone "bits" makes an honest investment in story and character much easier to come by.
Also notable is the film's funky, idiosyncratic music, from Heitor Pereira and the Neptunes' Pharrell Williams. Their collaborations lend Despicable Me an enjoyably loose-limbed vibe.
Production company: Illumination Entertainment
Domestic distribution: Universal Pictures
Producers: John Cohen. Janet Healy. Christopher Meledandri
Executive producers: Nina Rowan, Sergio Pablos
Screenplay: Ken Daurio & Cinco Paul, based on a story by Sergio Pablos
Production designer: Yarrow Cheney
Editors: Gregory Perler, Pam Ziegenhagen-Shefland
Music: Pharrell Williams and Heitor Pereira, Hans Zimmer
Main voice cast: Steve Carell, Jason Segel, Russell Brand, Miranda Cosgrove, Elsie Fisher, Dana Gaier, Julie Andrews, Kristen Wiig, Will Arnett