Dir: Tony Kaye. US. 2011. 100mins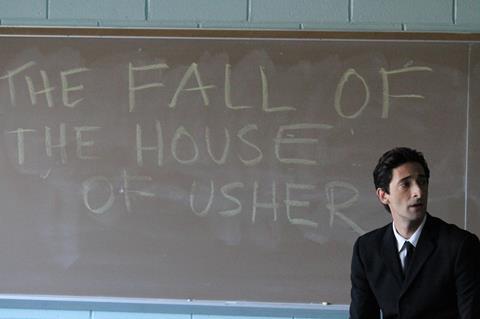 Detachment is the colourful, fluid story about a substitute teacher, Henry (Adrien Brody), his colleagues, and the teen prostitute, Erica (Sami Gayle), he salvages from the gutter, in which, as odd as it may seem, monologues about progressive social issues serve the narrative well. Dotted with rapid flashbacks and impressive chalk animation, the film is as vivid as a Bollywood musical, but way livelier, visually more abstract, and kitschless, with the Newton Brothers' glorious soundtrack rising and falling appropriately.
The film begins with unsmiling, documentary-like talking heads.
The film - which had its world premiere at Tribeca - will be critic-driven for certain, but once word spreads about its accessibility in spite of its unique artfulness and intelligent subject matter and dialogue, an educated and worldly public will wonder what the fuss is about and venture into upscale arthouses everywhere. That the students are cool and belligerent and the music geared toward the young crowd could attract a youthful audience as well.
The film begins with unsmiling, documentary-like talking heads following a simultaneously self-loathing and misanthropic quote from Camus at his most existential ("I have never felt so detached from myself and the world"). It ends with a line from Poe's melancholic The Fall of the House of Usher ("There was a sinking, a sinking of the heart"), as striking shots of trashed contemporary public schools in the US point to the nadir of the American educational system.
In the low-income school where Henry is currently teaching, he is confronted by unruly students he tactfully tames in order to educate. The principal, Carol (Marcia Gay Harden), is considered dead weight by bureaucrats who consider the property only in terms of its financial impact on the neighbourhood ("We are consensus building") and has just been let go.
The staff responds to ever-worsening circumstances in one of two ways. Some become hysterical, like Sarah (Christina Hendricks), a teacher who spreads vicious rumours, and Dr. Parker (Lucy Liu), the school psychologist who has a temper tantrum; others, like Charles (a funny James Caan in a best-ever performance), use humour as their defence shield.
Henry is the hub of the movie in every way. He milks his own relatively calm façade to defuse student anger. He is certainly qualified for Mensa and speaks an intellectual English, but he never condescends.
His problem is that he sees the world in black and white: His demons are buried deep inside, and they are exposed only in rapid-fire flashbacks (his alcoholic mother committed suicide, his half-demented grandfather had sexually abused him). When he sees Erica perform oral sex for money on a city bus, the groundwork is laid for his life to serve a purpose: her transformation. He is good at it.
Lost in the shuffle is the talented Betty Kaye – director Tony Kaye's daughter - as Meredith, an overweight student in Henry's class who wants his blessing as an artist and his body as a woman. In her case, he is detached to the extreme, and she makes an ugly exit that is not a snug fit for the general tone of the movie. But Betty Kaye has the talent to build a successful career. She just needs to find a project that employs no kin.
Production companies: Paper Street Films, Kingsgate Films
International sales: ICM, www.icmtalent.com
Producers: Austin Stark, Benji Kohn, Chris Papavasiliou, Bingo Gubelmann, Greg Shapiro, Carl Lund
Executive producers: Adrien Brody, Peter Sterling, Andre Laport
Screenplay: Carl Lund
Cinematography: Tony Kaye
Production designer: Jade Healy
Editor: Peter Goddard
Music: The Newton Brothers (Andy Grush, Taylor Stewart)
Main cast: Adrien Brody, Marcia Gay Harden, James Caan, Christina Hendricks, Lucy Liu, Blythe Danner, Tim Blake Nelson, William Petersen, Bryan Cranston, Sami Gayle, Betty Kaye