Dirs: Heidi Ewing and Rachel Grady. USA. 2011. 90mins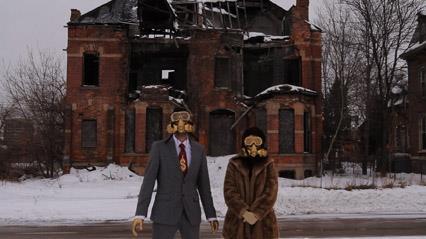 Twenty years after Michael Moore mourned the decline of the auto economy of Flint Michigan in Roger & Me, Detropia is a hymn to the collapse of the more distressed and dangerous Detroit nearby. It is a requiem for the dying.
Hovering above the once-proud city is the notion that Detroit's decline is a metaphor for the collapse of the US economy.
Much of Heidi Ewing and Rachel Grady's film is a dreamy portrait of the city that was the fastest growing in the world in the 1950s. Detroit is now shrinking faster than any major city in America, to the point that parts of it look rural. The doc should travel widely in festivals, with some theatrical exposure, but its most concentrated audience will be at museums and among urban planners.
In a poetic style of meditation on ruins, shot by cinematographer Tony Hardmon, the film tours the abandoned buildings and houses that have defined Detroit for more than 30 years. We watch the demolition of houses – there's a long waiting list - as the city's skyline is partly defined by tall empty silent structures. You have to look closely before you se that they are empty.
We meet auto workers who fume with a militancy about resisting wage cuts. The factory that employs them is shut.
The city's cultural institutions are a paradox. Detroiters who fled to the suburbs fund the opera and the symphony as institutions of civic pride, but at the Raven Lounge, a pub with music operated by a former schoolteacher, it's a struggle to make ends meet.
Plucky citizens seem carefully chosen by the filmmakers for their belief that things have to get better, because they can't get worse. They stress that the city will come back. There's not much evidence. Having lost more of its citizens since 2005 than New Orleans after Hurricane Katrina, Detroit is a now offering to pay artists to live there. But one future opportunity for economic growth, shooting films in the city's ruins, seems lost. The state of Michigan's film rebate programme, which had attracted productions, has been cut back.
Hovering above the once-proud city, as its black citizens go about everyday things on the streets, is the notion that Detroit's decline is a metaphor for the collapse of the US economy. Cities like Cleveland and Toledo also look war-raged in some neighborhoods, but where besides Detroit do you have vast tracts of gardens or grassland on land where highly-paid auto workers once lived? Like it or not, Detroit is unique, although it shares urban pathologies other declining industrial towns.
Most documentary portraits are incomplete. So is this one. We don't hear much about rampant crime, which helped drive a middle class out of the city, or about drugs, which helped fuel crime. Nor is there much from members of the city's economic elite. It's still hard to get the people who wouldn't talk to Michael Moore to cooperate.
Grady and Ewing have made docs about a Christian camp and an abortion clinic in Florida, but nothing which such vast implications.
Detropia joins Detroit Ville Sauvage (Florent Tillon, 2011) and The Pruitt Igoe Myth (Chad Friederichs, 2011) as meditations on urban decay in what had been flourishing cities. As with most docs about contemporary stories, this story isn't over. Detroit could slash its budgets again. In Detroit, optimism may be crucial for survival, but things can indeed get worse.
Production companies: Loki Films, Ford Foundation, Justfilms, ITVS FOUNDation, Impact Partners, Vital Projects
International Sales: Cinetic Media
Producers: Heidi Ewing, Rachel Grady, Craig Atkinson
Executive Producers: Dan Cogan, David Menschel
Cinematography: Tony Hardmon, Craig Atknson
Editor: Enat Sidi
Music: Dial.81