Dirs: Matt Bettinelli-Olpin, Tyler Gillett. US. 2013. 89mins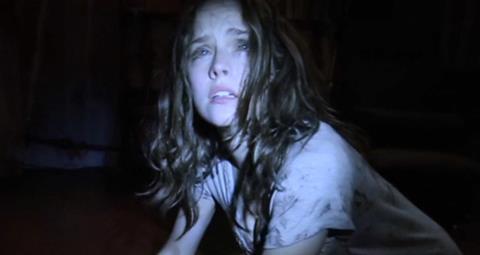 Without ever really delivering grim gore or terrifying thrills, the impressively sustained Devil's Due ticks enough genre boxes to amount to an astute by-the-numbers horror film that will no doubt find a welcome audience of horror fans starved of chills post Paranormal Activity: The Marked Ones, but will likely be regarded with minor disappointment by hard-core fans expecting more from the much-hyped filmmakers.
While there are moments to cherish in Devil's Due it rarely feels original or even genre-challenging enough to really mark itself as a fresh look at the horror film.
Yet another addition to the heavily-mined 'found footage' style horror film – though it does at least try to offer a different spin on the genre – Devil's Due tinkers with the Rosemary's Baby concept with a young couple finally coming to realise that their pregnancy is not quite as blessed as they might have wished.
There will no doubt be a strong initial audience for this rather mild-mannered horror number – there is no real gore and the jumps are all rather old-fashioned – especially on the back of a suitably stylish trailer and slick New York 'devil baby' street campaign, but numbers will likely drop heftily after the first week. But despite a lack of star names, the film at least offers mainstream date-night entertainment in amidst the plethora of Oscar-touted releases.
The premise of the 'video footage' structure is clear from the start as Zach McCall (Zack Gilford) creeps into his house on the eve of his wedding to Samantha (Allison Miller), recording his every move – including, rather preposterously, his climb up the drainpipe – as he tells her that he wants a video memory of their marriage.
After a fairytale wedding they head off to the sun-kissed Dominican Republic for plenty of honeymoon fun and games. Their last night takes a dark turn when a palm-reading psychic warns them that "he has been waiting" after reading Samantha's hand, and things get even stranger when a taxi driver whisks them off to a subterranean bar where they drink so much they can't recall the events of the night.
We see their video footage – but for some reason they never look back at their holiday film – of strange occult images, heaps of bones, an insistent chanting, candles and a muffled sound. Clearly not your normal late night party.
Back in their picture-perfect house where obedient dog Maverick playfully romps around Sam has unexpected news – she is pregnant, despite being positive she has been taking her birth control pills.
Her pregnancy turns out to be less than normal. The ultrasound is rather odd; vegetarian Sam pops into a supermarket and crams raw meat into her mouth; in a shopping mall's car park she smashes the windows of a car that bumps her with superhuman power and the baby contorts her belly when she sleeps. Plus there are the cabal of shadowy figures watching them and who plant a series of micro video cameras around their house. It will come as no surprise that things don't end well.
The two leads, while not household names are engaging and watchable. Zach Gilford, who starred as quarterback Matt Saracen in TV series Friday Night Nights, has an genial everyman quality, while Allison Miller (who featured on TV in Terra Nova and Kings) is a warm-hearted natural, blessed with real charisma.
Co-directors Matt Bettinelli-Olpin and Tyler Gillett worked with exec producers Chad Villella and Justin Martinez (also the film's cinematographer) to form the filmmaking quartet known as Radio Silence, who a few years ago made a segment of horror anthology V/H/S, which premiered at Sundance last year.
They clearly have the skills to deliver horror thrills, and while there are moments to cherish in Devil's Due (most especially a Chronicle-style sequence where a random teen threesome who come across Sam munching on a freshly killed Bambi find themselves thrown into the air with fatal results) it rarely feels original or even genre-challenging enough to really mark itself as a fresh look at the horror film.
Production company: Davis Entertainment Company
Distribution: 20th Century Fox
Producer: John Davis
Executive producer: Chad Villella, Justin Martinez, James Dodson, Brittany Morrissey
Screenplay: Lindsay Devlin
Cinematography: Justin Martinez
Editor: Rod Dean
Production designer: Anthony Medina
Main cast: Allison Miller, Zach Gilford, Sam Anderson, Roger Payano, Vanessa Ray, Bill Martin Williams, Geraldine Singer. Julia Denton, Robert Aberdeen