Dir/scr: Everardo Gout. Mexico/France. 2011. 128mins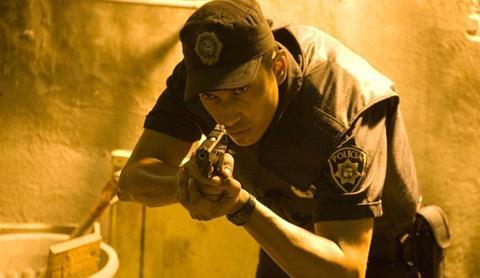 A hyper-stylised, hard-boiled Mexican cop drama which doffs the cap at its Hong Kong and Japanese crime compadres, Dias de Gracia attempts to peg itself to the World Cup, with the action taking place over three consecutive tournaments.
Dias de Gracia is more of an over-the-top Sequestro Express or The Elite Squad than Sin Nombre.
It's a nice idea, particularly when it comes to marketing, but Dias de Gracia isn't a football film per se; the sport provides a vague thematic link and a background noise as sweaty tattooed gangsters put their weaponry aside to shout "goooooal" every now and again.
Managing three plot strands and more than one twist, ambitious first-time director Everardo Gout, working with cinematography Louis Sansans, throws the kitchen sink at the screen: from black and white to heavy saturation and bleached-out colours, fades, blurs and dissolves to jump cuts, steadycam, multiple perspectives, slow motion. And that's just an average scene. Underscored by Nick Cave's droning beats throughout, this is about as relaxing as sitting in a dentist's chair.
Dias de Gracia is more of an over-the-top Sequestro Express or The Elite Squad than Sin Nombre; its multiple timelines may recall Inarritu on paper, but Gout turns in a weaponised Ringo Lam here. Despite its lengthy running time, this could be a mid-range seller for Kinology, especially on MTV-style ancillary.
And Gout, not withstanding the attention deficit issues, also marks himself out as a young director to watch once he relaxes enough to trust his own narrative. Carlos Bardem possibly could add some heft in Spain.
A hard-boiled voiceover, accompanying a gorgeous aerial swoop over Mexico City, opens the proceedings by quoting Colombia's Gabriel Garcia Marquez: "Life is not how you live it, but how you tell it". Taking this to heart, Gout introduces his lead character, charismatic cop Lupe (Huerta), a very broadly sketched stereotype.
As we meet him, Lupe is teaching a lesson to two young kids he's picked up for selling weed, but really he has a heart of gold and a wife who is about to give birth. His partner is corrupt, but Lupe nurtures a fiery sense of justice. "Being a cop keeps me straight," he says, before he goes straight down the path of every rookie cop in a corrupt police state - to hell, via lashings of heavy weaponry, double-crossing superiors and Sikh crime lords.
Elsewhere, in a different timeframe, a businessman has been kidnapped for ransom and is being held in abject circumstances by a gang whose youngest member is called Iguana. Gradually, we piece together the information that Iguana is in fact Doroteo (Ferrer), the weed-selling child of the opening scenes, and the brother of the maid who works for the kidnapped man's family.
Gout's narrative twists and turns - and then some more - throughout 12 years of flashback and flashforward as the stakes rise for Lupe and Doroteo. As it passes the hour mark, Dias de Gracia gives up any attempt at nuance to become a straight-up, full-on revenge drama with an accompanying body count.
Memorably, at mid-point, a tattooed mafia Madame arrives on the scene, dressed in black leather, as if out of The Matrix, to tell Lupe: "Stealing from me is an act of war, and when I say war, I mean The Apocalypse".
Days of Grace indeed.

Production companies: Casa B Productions, ARP
International sales: Kinology, www.kinology.eu
Producers: Leopoldo Gout, Everardo Gout, Ozcar Ramirez, Michele & Laurent Petin
Cinematography: Louis Sansans
Editors: Herve Schneid, Jose Salcedo
Music Nick Cave, Warren Ellis, Atticus Ross, Massive Attack, Shigeru Umebayashi
Main cast: Tenoch Huerta, Kristian Ferrer, Dolores Heredia, Carlos Bardem, Eilen Yanez, Jose Sefani