This year's Dubai International Film Festival (DIFF, December 7-14) will open with John Madden's political thriller Miss Sloane and close with Rogue One: A Star Wars Story.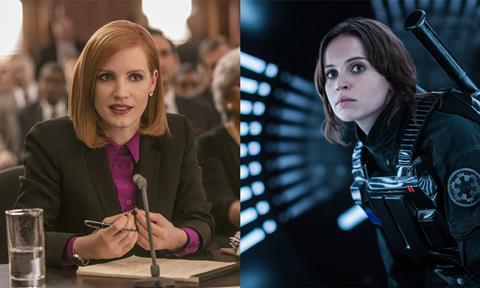 Starring Jessica Chastain, Miss Sloane revolves around a ruthless lobbyist in Washington DC. Lucasfilm's Rogue One: A Star Wars Story, directed by Gareth Edwards, opens in UAE theatres on December 15.
Celebrating its 13th edition this year, DIFF will screen 156 films from 55 countries, including 57 world and international premieres, 73 MENA premieres, 12 Middle East premieres and 9 GCC premieres.
Red carpet galas at DIFF include the world premiere of Aditya Chopra's Befikre; Ang Lee's Billy Lynn's Long Halftime Walk; Swallows And Amazons, Emirati director Ali F. Mostafa's third feature The Worthy; and Lone Scherfig's romantic comedy Their Finest, starring Gemma Arterton, Bill Nighy and Sam Claflin.
DIFF's Beach Screenings include Jordan Robert's Burn Your Maps, starring Vera Farmiga and Jacob Tremblay; Michaël Dudok de Wit's award-winning animation The Red Turtle; and Peter Chelsom's romantic sci-fi drama The Space Between Us, starring Asa Butterfield and Gary Oldman.
DIFF will also present Lifetime Achievement Awards to Samuel L. Jackson, Bollywood actress Rekha and award-winning French Lebanese composer Gabriel Yared. Jackson will participate in an In Conversation event on December 9.
On December 11, the stars of HBO's hit show Westworld will take part in an In Conversation event, following a screening of one of the series' episodes.
Meanwhile, more than 3,000 delegates from 65 countries are registered to attend Dubai Film Market (DFM), which will feature speakers including Asif Kapadia, Lenny Abrahamson and AMPAS president Cheryl Boone Isaacs.
DFM is launching a new section, DIFFerent REALITY, which will offer ten of the world's most advanced VR films, including five world premieres. The market has also launched The Dubai Investors Club, an initiative designed to offer investors from the region an opportunity to learn about international film financing.