As the Dinard British Film Festival in France celebrates its 20th edition (Oct 8-11), it is still proving a hot ticket for UK and French film-makers.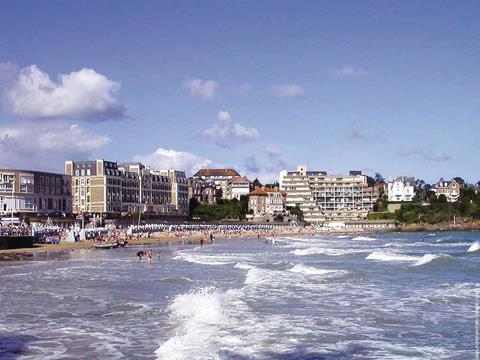 Dinard's Festival du Film Britannique may be about introducing UK cinema to French audiences, but with around 75 members of the UK film industry flying out on the same plane to the French seaside resort next weekend, it also offers a chance for producers, directors and distributors to catch up with each other.
"French people like British films for their humour and the way they look at the world"

Hussam Hindi, Festival du Film Britannique
"It's not so much about doing business as about hanging out with people you don't get time to at home," says UK producer Mark Herbert of Warp Films. He has been coming to Dinard each year since 2003 with his regular collaborator, director Shane Meadows. "We came up with the title for Dead Man's Shoes at Dinard, so now we come back every year to get inspiration for our next idea."

Created in 1990 as a way of putting the town of Dinard on the map, the festival now plays a key role in introducing UK cinema and film-makers to the French public. Some 26,000 tickets were sold last year, with similar numbers expected for this year's event.

"We sell almost all our tickets in June, before the films are even selected," says the festival's artistic director Hussam Hindi. "French people like British films for their humour and the way they look at the world."

The festival is sponsored by the British Council, the UK Film Council and France's CNC. "There's a real sense of anticipation [ahead of the festival]," says Satwant Gill, head of film at the British Council. "Over the years I've been coming to Dinard, I've seen audiences get bigger."

Although Dinard is celebrating its 20th anniversary, the organisers are keen to look to the future rather than indulge in nostalgia. "We don't want to look back over the last 20 years, we want to look forward to the next 20," says Hindi.

This year's festival will focus on 10 promising UK directors, including Man On Wire director James Marsh and John Crowley, whose coming-of-age drama Boy A won the Hitchcock d'Or award at Dinard last year. They will host screenings of their latest films.

One of the aims of the festival is to foster co-productions between France and the UK through the annual producers meeting. One of the festival's success stories is Philippe Aractingi's 2007 film Under The Bombs. At Dinard, UK producer Paul Raphael was contacted by French writer-director Michel Léviant, who was pitching another idea. "But he also went on to tell me about this Lebanese director [Aractangi] who had some amazing war footage," says Raphael.

Programming consultant and handler of UK relations Barbara Dent admits encouraging the UK and French film-makers to talk to each other "isn't always easy".
"There have been moments when you have to force them to sit together at dinner," she admits.

French producer Bertrand Faivre, who set up UK production company The Bureau, straddles both industries. "The UK industry is really geared towards the US, so Dinard provides one of the few opportunities for British producers to have communication with Europe," he suggests.

Heading to Dinard for the first time this year is UK director Jamie Jay Johnson, whose documentary Sounds Like Teen Spirit, about Junior Eurovision Song Contest entrants, is in competition at the festival. "I hear from several other directors that it's a really fun festival with lots of great UK people attending," he says.
In competition: the Hitchcock d'Or Award
The six titles in competition for Dinard's Hitchcock d'Or Award, which comes with a cash prize of $4,600 (€3,100) towards the winner's French distribution costs and a $2,200 (€1,500) grant to the director, are:

Justin Molotnikov's Crying With Laughter
Armando Iannucci's In The Loop
Henrique Goldman's Jean Charles
Xiaolu Guo's She, A Chinese
Jamie Jay Johnson's Sounds Like Teen Spirit
Dominic Murphy's White Lightnin'