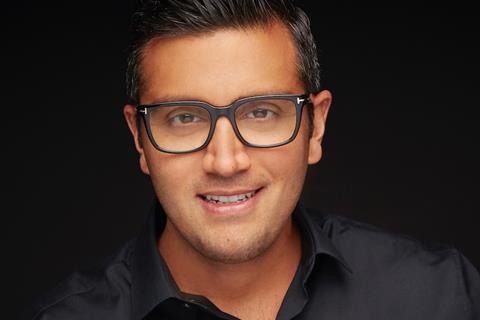 The Walt Disney Studios said in Thursday (June 28) that 14-year company veteran Asad Ayaz has been appointed president of marketing.
Cathleen Taff, who was appointed head of Disney global theatrical distribution in March, has been promoted to president of theatrical distribution, franchise management, and business & audience insights.
Ayaz (pictured) reports to Walt Disney Studios president Alan Bergman and will oversee all aspects of marketing operations from strategy to creative, media, digital, promotions, publicity, and "synergy" for all Disney, Walt Disney Animation, Pixar, Marvel Studios, and Lucasfilm releases.
He most recently served as executive vice president and head of theatrical marketing for all titles and takes over from Ricky Strauss, who was recently named to lead content and marketing for Disney's upcoming direct-to-consumer service.
Taff recently oversaw the launch of Incredibles 2 and retains oversight of the studio's franchise management and consumer insights and analytics functions.
"We are fortunate to have a wealth of talented leaders at The Walt Disney Studios, and even as the wonderful Ricky Strauss takes on a new role for Disney's streaming service, the elevation of our own Asad Ayaz and Cathleen Taff provides continuity of leadership alongside new and diverse perspectives that keep our business ahead of the curve," said The Walt Disney Studios chairman Alan Horn. "I am thrilled to have them in these roles as we continue to deliver unparalleled entertainment experiences to our audiences around the world."
"We're so thankful for Ricky's leadership, and when it came time to pass the torch, it was clear there is no one more equipped or deserving to take the reins of our marketing organization than Asad Ayaz, who has been a key driver in evolving our marketing strategy and mobilization," said Bergman
"Asad is an insightful, collaborative leader and team builder whose keen and forward-looking approach has enabled The Walt Disney Studios to bring our films to the widest audiences possible, creating great anticipation and buzz through some of the most innovative and culturally impactful campaigns of all time."
"Being a part of this extraordinary team, working on the equally extraordinary content from our world-class film studios, has been such a privilege, and it's truly an honor to have the opportunity to step up and lead this group," said Ayaz. "This is a brilliant team for whom I have so much respect, and I am looking forward to all the great things we will accomplish together."