And you thought that massive tree-top picnic with the Ewoks was a 'happily ever after' moment?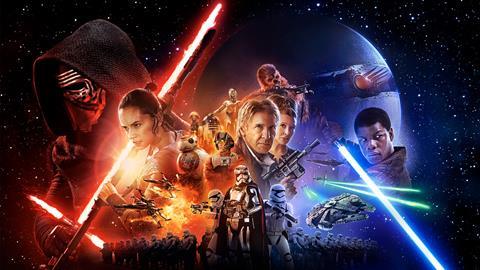 Disney used its ESPN channel to drop the final trailer of Lucasfilms' Star Wars: Episode VII – The Force Awakens during half-time on the 'Monday Night Football' show - and it's clear the tuneless merriment that signalled the end of Star Wars: Episode VI – Return Of The Jedi 32 years ago was not the final verse in the sci-fantasy saga.
Well OK we've known that forever, but putting aside the aberrations that were Episodes I, II and III, life after the cacophony in the canopy is not that straightforward.
"It was true – all of it," says Harrison Ford's Han Solo as if relating a fairy tale to a gaggle of small children. "The Dark Side. The Jedi. They're real."
"Who are you?" asks a slightly raspy female voice at the start of the clip.
"I'm no-one," replies Daisy Ridley's Rey. Incredibly humble or simply unaware of her fate? You decide.
Yep, there's soul-searching aplenty in everybody's favourite galaxy far, far away and the trailer to the first true Star Wars sequel since 1983 does a good job of whetting appetites ahead of the mid-December launch. And wreaking havoc with the websites of Fandango, AMC Theaters and others due to massive demand for advance tickets.
"I was raised to do one thing," intones John Boyega's Finn in between volcanic bouts of perspiration. 'I've got nothing to fight for." And if that sounds like a hapless IT contractor at one of the aforementioned ticketing sites fear not, because this is even more dramatic. Finn then removes his stifling Stormtrooper mask.
And talking of masks, there is a portentious one-way convo between Adam Driver's sinister Kylo Ren and an iconic piece of sci-fi hardware.
"Nothing will stand in our way," he half-moans to a mangled Darth Vader mask. "I will finish what you started." We're not talking about an interrupted paella recipe, kids.
There are explosions. There's the Millennium Falcon in all its clunky, full-throttle magnificence careening through rocky gateways. There are TIE fighters spinning out of control as usual. There are cute droids. There are lightsabers red and blue.
What there is nothing of so far, either in the trailer or the poster that surfaced on Sunday (pictured), is Mark Hamill's Luke Skywalker.
But we know he's there. And so are Carrie Fisher, Anthony Daniels and Kenny Baker, Gwendoline Christie, Lupita Nyong'o, Andy Serkis, Domhnall Gleeson and Oscar Isaac, to name a few. There's even Max von Sydow and a Teenage Mutant Ninja Turtle in a white get-up at the start of the trailer, for heaven's sake. One of those last two name-checks is a lie.
Similarly it has been noted that the poster does not credit the creator of the universe, George Lucas. Then again, he has said his creative input in the new wave of Star Wars films is minimal.
All will be revealed when JJ Abrams' anticipated epic hits screens at the end of the year. The film premieres in Los Angeles on December 14, arrives in the UK a day later and opens across most territories on December 16, 17 and 18. The Chinese debut is January 29, 2016.