In a genial presentation in Las Vegas on Thursday that reassured the massed ranks of exhibitors that it believes in the theatrical business, Hollywood's newest major player also broke news about theatrical distribution partners on two films on its slate.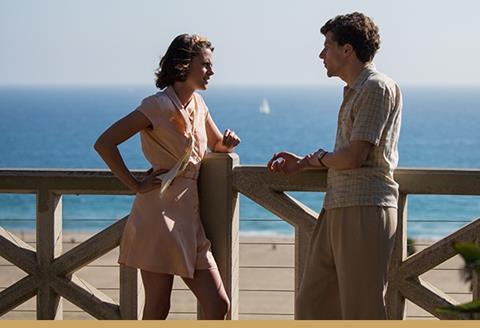 Lionsgate will work with head of marketing and distribution Bob Berney on the US theatrical release of Cannes opener Café Society (pictured), while IFC Films was revealed as the partner on Sundance acquisition Complete Unknown.
If the legend 'We Love Theaters' emblazoned across two giant screens in the Octavius Ballroom and the presence of Berney were not already enough to persuade theatre owners that Amazon Studios intends to mount proper theatrical campaigns 90 days before the films roll out on its digital platform, the executive made it very clear in the session.
"All the films we're acquiring or making will be released theatrically with an aggressive marketing and distribution campaign to bring customers to your theatres," said the man behind breakout hits such as The Passion Of The Christ and My Big Fat Greek Wedding.
That drew a large burst of applause from a section of the industry beset by the ever-changing landscape and the threat of Screening Room, which has been writ large over the convention all week even if many here have doubted its substance.
Amazon Studios chief Roy Price came on to echo the pro-theatrical sentiment, although he hinted at some flexibility in the model when he said, "Almost all of our films will [be released via] traditional theatrical windows."
Price spoke of Amazon Studios' promising TV business that launched three years ago and has brought awards recognition for Transparent and Mozart In The Jungle and said, "We want to bring the same standards and excitement to the film business."
Berney went through the current slate, which includes Elvis & Nixon (with theatrical partner Bleecker Street) on April 22 following the world premiere in Tribeca, and six Sundance pick-ups.
They are: Love And Friendship (Roadside Attractions) on May 13, Wiener-Dog (IFC) in the summer; Complete Unknown (IFC); Gleeson (Open Road) on July 15; Author: The JT LeRoy Story; and Manchester By The Sea (Roadside) on November 18.
Screendaily understands star Casey Affleck is committed to fully supporting the release and awards campaign on Kenneth Lonergan's Manchester, one of the critical darlings out of Park City at the start of the year. Amazon Studios also holds rights to Australian hit The Dressmaker.
Berney also announced that Lionsgate is the US partner on Café Society, Woody Allen's Cannes opener that stars Jesse Eisenberg and will release in August. Attendees watched a trailer form the comedy.
The festival opener is one of five Amazon Studios films that will premiere on the Croisette besides Café Society. They include a remarkable two films from Jim Jarmsusch – Paterson and The Stooges documentary Gimme Danger – as well as Park Chan-Wook's The Handmaiden (Agassi), and Nicolas Winding Refn's The Neon Demon.
Refn spoke to attendees via Skype from Copenhagen and repeated his belief in the theatrical experience and said he wanted to accompany star Elle Fanning on a road trip across the US in support of the release.
Fanning appeared on stage and spoke of her excitement over the role. She plays an ingénue who travels to Los Angeles in the hopes of becoming a model and falls into an unsettling world. Refn introduced a trailer.
Berney also mentioned two previously announced films that Amazon Studios is fully financing. Nash Edgerton is in production in Mexico City on his feature starring Charlize Theron, David Oyelowo, Amanda Seyfried, and Diego Luna. The film has gone under the title of American Express.
Todd Haynes is in pre-production on Wonderstruck, which will reunite him with Julianne Moore.