Distributor Cinema Libre has hailed a successful opening weekend for the documentary that lost its Tribeca world premiere berth following an outcry over the veracity of its scientific claims.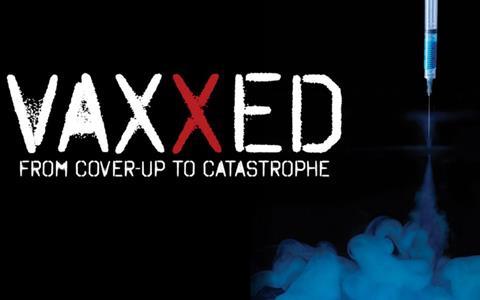 Vaxxed: From Cover-Up To Catastrophe by Andrew Wakefield, which among other things discusses a causal link between the MMR vaccine and autism and an alleged cover-up by a US medical organisation, grossed $28,339 over three days at New York's Angelika Film Center.
Tribeca Film Festival top brass pulled the film from the line-up last week when co-founder Robert De Niro, who has a child with autism, consulted colleagues and members of the scientific community and determined the film did not adequately contribute to the ongoing discussion about autism.
In an open letter to Filmmaker magazine, director Penny Lane called Wakefield a "discredited and dangerous anti-vaccination quack."
Wakefield, who published research into an alleged link between the vaccine and autism, lost his license in the UK and a number of his co-authors subsequently withdrew their names from the paper.
However Cinema Libre spokesperson Beth Portello said the film had been unfairly represented and added that the distributor had received numerous letters in support from parents of so-called "vaccine-injured children."
Wakefield's film also features whistleblower William Thompson from the US-based Centers For Disease Control And Prevention, who claims the organisation hid its 2004 study that showed a link between the MMR vaccine and autism.
There have been other studios that do not make such an assertion.
Cinema Libre originally planned to release Vaxxed in June following the Tribeca world premiere, and decided to bring forward the opening weekend after the controversy erupted.
"It takes such an effort to go see a movie in theaters these days, so why would you go see one that has been trashed by one of the most prestigious festivals in the country?" said chairman Philippe Diaz.
"On top of that, the film critics will feel they have to continue the 'kill job' started by Tribeca. How can they go against such a prestigious festival where they are invited every year?"
The film will play on closing night at the Houston Worldfest on April 17 and screen at the Manhattan Film Festival the same day it was originally scheduled to screen at Tribeca, April 24.
Portello said a petition started at Change.org to bring the film back to Tribeca has reached close to 35,000 signatures.
Vaxxed will play a second week at the Angelika before expanding into Los Angeles on April 15 and select threatres nationawide beyond that.