EXCLUSIVE: International Film Trust (IFT) announced at AFM it has closed key sales on Cymbeline including Koch Media for the UK and KSM for Germany.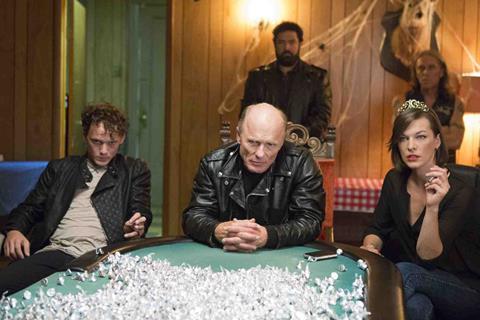 Rights have gone to CIS (Nashe Kino), Japan (Happinet), Australia/New Zealand (Transmission), Switzerland (Praesens), South Korea (Sookie), Eastern Europe, Greece and Turkey (Tanweer) and Middle East (Shooting Stars).
Further deals closed in China (HGC), India (PVR), Singapore (Shaw), Thailand (IPA), Taiwan (Well Go) and the Philippines (Pioneer).
Ethan Hawke, Ed Harris, Milla Jovovich, Dakota Johnson, Penn Badgley and Anton Yelchin star in Michael Almereyda's modern-day Shakespeare adaptation, set against an epic battle between corrupt police officers and biker gangs.
Anthony Katagas produces Cymbeline for Keep Your Head Productions alongside Michael Benaroya, who is fully financing through Benaroya Pictures. Ben Sachs of Benaroya Pictures serves as executive producer.The project is in post.
"With a star-studded cast, buyers have really embraced Michael Almereyda's refreshing adaptation of Shakespeare's play," said IFT head of sales Christian de Gallegos.