EXCLUSIVE: Kaleidoscope swoops on action movie which debuted at Sundance.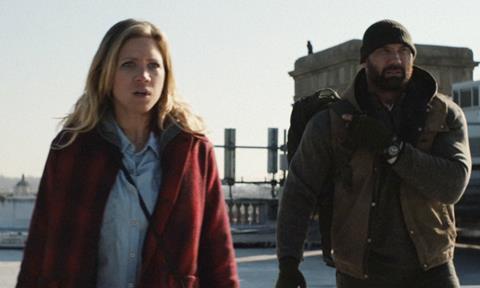 Kaleidoscope has finalized a deal in Cannes for Directors' Fortnight and Sundance selection Bushwick, the action-thriller starring David Bautista (Guardians of the Galaxy) and Brittany Snow (Pitch Perfect 1 & 2).
The film shows America on the brink of a second civil war, as a mysterious force invades the suburb of Bushwick, in Brooklyn, throwing Bautista and Snow together in a battle for survival.
Kaleidoscope Entertainment signed the deal with Ketchup Entertainment.
The film is directed by Jonathan Milott and Cary Murnion (both Cooties) and is written by Nick Damici (Stake Land) and Graham Reznick. It is produced by XYZ's Nate Bolotin (The Raid 1 & 2), along with Adam Folk (Cold in July) and Joseph Mensch. Score is by hip-hop artist Aesop Rock.
Kaleidoscope will release theatrically in the UK August, followed by digital and DVD in September, after the film is screened by Sundance's London off-shoot in early June.
Spencer Pollard, CEO of Kaleidoscope commented: "We're really excited to be working with Gareth and the rest of the team at Ketchup on the UK release for Bushwick. Not very often do you get a genre film that crosses over into official selection at Sundance, Cannes and Sundance London and we cannot wait to present the film to the UK audiences later this year."
Gareth West, CEO of Ketchup Entertainment added: "It's great to be working with Kaleidoscope on the upcoming release of Bushwick. They've shown a real enthusiasm for the film from the very early days of discussing working together and we look forward to collaborating together ongoing."