Strand Releasing has acquired all US rights from Films Boutique to Peter Greenaway's fact-based drama.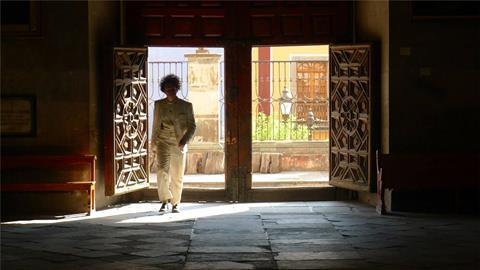 The film received its world premiere in competition in Berlin and centres on Soviet filmmaker Sergei Eisenstein's romance with a local male guide while shooting Que Viva Mexico in Guanajuato in 1931. Elmer Back and Luis Alberti star.
Jon Gerrans of Strand Releasing negotiated the deal with Jean-Christophe Simon of Films Boutique.
Strand plans for a late 2015 / early 2016 release after the North American premiere at the Seattle International Film Festival.
BOND/360 has acquired rights to Tomorrow We Disappear, Jimmy Goldblum and Adam Weber's documentary abut the last days of Kathputli, a hand-built artist colony hidden away in the alleyways of New Delhi that was featured in Salman Rushdie's classic Midnight's Children. BOND/360 brokered the deal with Preferred Content and WME Global and will distribute the film on all major VOD platforms in July 2015.
IFC Films has picked up North America on Alex Ross Perry's Queen Of Earth. Elisabeth Moss, Katherine Waterston, Patrick Fugit, Kate Lyn Sheil, Kentucker Audley and Keith Poulson star in the drama about a hostile lakeside cabin reunion between two former best friends. The film premiered in Berlin.