EXCLUSIVE: Protagonist boards international rights to Sundance Midnight title executive produced by Tim League and Ben Wheatley.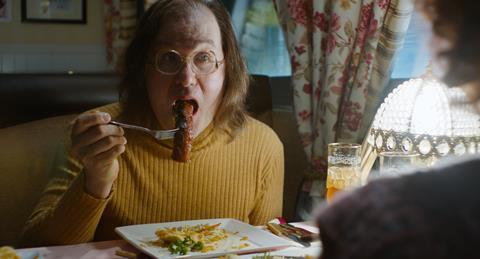 Following its gross-out launch in Sundance's Midnight strand, Protagonist Pictures has boarded international sales rights to Jim Hosking's off-kilter comedy debut The Greasy Strangler.
Co-written by Hosking and Toby Harvard, who previously co-wrote The ABCs Of Death 2 anthology segment G Is For Grandad, the film is produced by Daniel Noah, Josh C Waller, Elijah Wood (The Lord Of The Rings), Andy Starke (Kill List) and Ant Timpson (Turbo Kid), the film is executive produced by Tim League of Drafthouse Films and director Ben Wheatley (High-Rise).
In between profanity, flatulence, cellulite and grease the film follows a father and son who are competing for the attentions of the same woman. The unlikely pair earn their keep by giving 'disco tours' to gullible tourists, whilst at night one of them morphs into the greasy strangler, a grotesque naked killer covered from head to toe in layers of lard.
Cast includes Michael St Michaels, Sky Elobar and Elizabeth De Razzo.
"Jim Hosking has an authentic cinematic voice which feels as fresh, filthy and good-natured as early John Waters," said Protagonist CEO Mike Goodridge. "Our team couldn't stop giggling when we first saw The Greasy Strangler and we are proud to be representing this thoroughly revolting movie on its journey out into the world."
Protagonist will screen the film at the EFM.