On the heels of the Toronto world premiere of the environmental call to arms, the film's director Avi Lewis and author of the book of the same name Naomi Klein have announced special screenings in 13 global cities from September 26.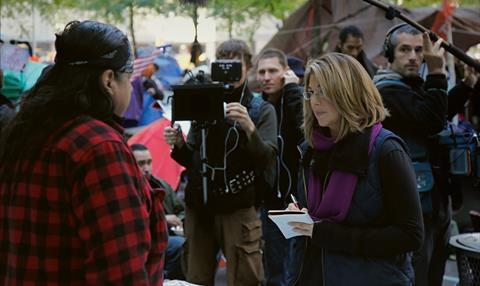 Organisations including 350.org, Greenpeace, Friends Of The Earth, Fossil Free Berlin, Fossil Free Amsterdam and Stop Skouries Gold Mine are partnering in the event with a goal to inspire people at grassroots level to take action in the fight for climate change.
All of the screenings – taking place in Berlin, Bergen, Oslo, Barcelona, Edinburgh, Manila, London, Dublin, Manchester, Bucharest, Stockholm, Thessaloniki and Amsterdam, where the film will be projected on a coal-fired power station – will be accompanied by panel discussions with environmentalists, anti-austerity activists and labour organisers, along with a Skype Q&A with Lewis and Klein. Questions will be taken via the twitter handle @thischanges and hashtag #thischangeseverything.
The timing is appropriately scheduled ahead of the United Nations 'COP21' meeting convening in Paris from November 30-December 11, where parties will negotiate a new international climate agreement.
Spreading the message
Klein, who is also the narrator of the film, asks the question "What if confronting the climate crisis is the best chance we'll ever get to build a better world?"
Spanning more than four years in five continents, she and Lewis researched how local communities were affected by climate change and in return sought a distribution platform that would enable grassroots groups to both reflect and react on their findings.
In addition to a more conventional theatrical release – Abramorama is releasing the film in New York City on October 2 and Los Angeles on October 16 and Video Services Corp (VSC) opens the film in Canada on October 9 – the documentary's distribution model puts audiences in control of organising 'home-grown' screenings.
"Different to when climate was initially discussed at the UN, communities at the grassroots level are becoming more proactive in getting their voices heard," said Lewis. "So we knew a standard distribution model wasn't enough – we had to find a way to reach these people."
During the production of the film Klein and a large research team on the ground contacted organisations like Green Peace and 350.org to build early awareness.
"Our goal was to create a network of like-minded organisations who could help spread the film's message. Even before we had distribution deals in place, we had garnered a large amount of support, such as these 'movement' premieres that will generate buzz in the lead-up to Paris," continued Lewis.
The pulling power of TUGG
Lewis also praised 'DIY' event programming specialist TUGG as a primary conduit to local communities.
"We are trialling this out in the US, Australia and New Zealand," the director said. "All people have to do is get a group of 100 people together and pay a modest license fee, which is then split between the production, TUGG and theatres. Screenings can take place in other venues as well, and groups can organise speakers and debates."
Because of Naomi's best-selling book, Lewis has received requests to host screenings from more than 500 community groups.
"It's incredible, we haven't even advertised yet. It's a wonderful example where the production can earn revenue as can the theatres, while the communities have a platform to generate discussion."
TUGG is launching in India and Canada and Lewis and the film's production team will liaise with those outposts to further the grassroots screening programme.
Learning from the educators
In a bid to involve education bodies at an early stage, impact and distribution producer Alex Kelly linked together with curriculum body Rethinking Schools, who share ideas with teachers around the US through social justice teaching and education activism.
"We hosted a retreat with 17 of their teachers who watched early clips of the film. They then helped us brainstorm on different lesson plans that could translate the film's message into classrooms."
Kelly also commissioned more traditional education tools that will be made available on the film's website for convenient access for schools across the world.
Lewis described the education tie-in as another aspect of the broader networking process.
"The teachers helped us immensely in finding ways the film's directive could work within the education spectrum," he said. "Similar to our relationships with the grassroots and climate organisations, this generated a strong team of dedicated early adopters, allowing us to start production with established partners."
'A new world'
The film hosts a bevy of star-studded backers, among them Alfonso Cuaron, Pamela Anderson, Danny Glover, Vivienne Westwood and Seth MacFarlane.
"Myself, along with the film's investors, want to serve the film's overriding social purpose," said Lewis. "We have this opportunity to put the film in the hands of the people that matter, the people whose voices need to be heard. But at the end of the day, we also need to recoup our money."
Sales agent FilmBuff signed an exclusive deal with iTunes where grassroots screenings will be bookable from October 20 as a cornerstone of the broader pre-COP21 strategy.
"We are lucky to be working with visionary partners like Abramorama and FilmBuff in the US and VSC in Canada, who understand it's a new world where people watch and use movies in a different way," said Lewis.
"No one has tried this before. It's an exciting time working with all these different platforms and organisations. All we can do is take a deep breath and a giant leap."
FilmBuff is responsible for all international sales and distribution of the film and is also handling all international event-based and grassroots screenings.