Dir/scr: Quentin Tarantino. US. 2012. 165mins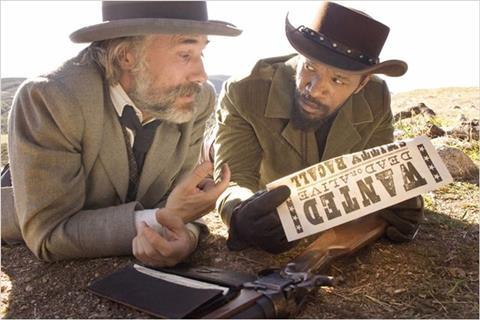 Audacious but overlong, irreverent but gripping, writer-director Quentin Tarantino's Django Unchained is like nothing else — except, that is, the filmmaker's earlier works. Drawing on his considerable strengths, as well as some of his nagging indulgences, this bold Western set in the American South on the eve of the Civil War will provide Tarantino's fans with all that they love about the auteur's distinctive pictures, including stylishly exaggerated violence, pungent characters and reams of lively dialogue. And while Django Unchained is certainly another impressively constructed and passionately executed Tarantino effort, the major quibble is that it's not quite sharp or provocative enough to rank with his best films.
DiCaprio is striking as the charming, casually evil Candie, and he has a few explosions in this film that are unnerving in their volcanic escalation.
Set for a Christmas Day release in North America before unspooling across the rest of the planet in January, Django Unchained boasts plenty of star power thanks to a cast that includes Jamie Foxx and Leonardo DiCaprio. (Tarantino's name will also attract a sizeable audience.) The movie's only direct competition would seem to be the Tom Cruise action film Jack Reacher or perhaps The Hobbit, but for a certain discriminating crowd Django will be an event movie, which promises solid box office returns and brisk DVD sales.
Taking place two years before the beginning of the Civil War, the movie concerns the unlikely partnership of white German bounty hunter Dr. King Schultz (Christoph Waltz, who won a Best Supporting Actor Oscar for his role in Tarantino's Inglourious Basterds) and the African-American slave he recently freed named Django (Foxx). The two men work together on Schultz's assignments, but Django has a greater purpose in mind: rescuing his slave wife Broomhilda (Kerry Washington) from the clutches of suave, cruel Mississippi plantation owner Calvin Candie (DiCaprio).
Much like Tarantino's last outing, the World War II action-drama Inglourious Basterds, Django Unchained is a period film set during a crucial time in world history. And as he did with Basterds, the filmmaker doesn't concern himself with delivering a solemn, faithful treatment of the era, instead confronting the rampant racism of the period with an offhand, sometimes cheeky spirit. (One comedic bit involves the difficulty an unruly mob has in seeing out of their KKK-like white hoods.) This isn't to suggest that Tarantino makes light of slavery but, rather, that like with Basterds' mocking of Nazism, he utilises the racial injustice of 19th century America as a pulpy backdrop for his vibrant characters.
Though Django's name appears in the title, Django Unchained in some ways is more Schultz's show, and Waltz has a grand time giving this bounty hunter a slightly haughty demeanour and exquisite manners. In truth, Schultz isn't that far removed from Waltz's Nazi Colonel Hans Landa from Basterds, except that this new character uses his limitless self-confidence and polished eloquence for good purposes rather than evil. The similarity between the two characters is noticeable, but Waltz so elegantly executes Tarantino's clever lines that it feels more like a welcome encore, as opposed to a tired rehash.
Django's journey in this film slightly recalls the Bride's in the Kill Bill movies. (Once again, a well-meaning soul must seek vengeance in order to escape the past.) But as Foxx capably plays him, Django is a beaten-down slave whose newfound freedom allows him to evolve from an uneducated, timid man into an imposing killer. Granted, this isn't the most nuanced of character arcs, but Foxx makes us feel Django's inarticulate rage for the way he's been treated and his desire to reunite with his beloved Broomhilda.
Again showing his love for spaghetti westerns, grindhouse cinema, and hip-hop music, Tarantino has become such a pro at weaving together his disparate influences that they no longer seem incongruous or shocking — they're simply his trademarks. Indeed, Django features several terrific sequences that build tension from sometimes the simplest of setups. (Not many filmmakers are so superb at making a conversation between two people ripple with anxiety.)
But despite Tarantino's excellent visual sense — supported by cinematographer Robert Richardson — Django's bravura spasms of violence and intricate dialogue scenes only rarely dazzle. It's not that Tarantino has lost his skill. (And, in fact, Django's treatment of violence occasionally has a sombre thoughtfulness to it that his previous films would have laughed off.) But even when DiCaprio sinks his teeth into his character's deranged monologue in the film's second half, it's hard to shake the impression that this sort of ostentatious soliloquy has become such a staple of Tarantino's work that it's lost some of its power to surprise.
Some may complain that Tarantino's frequent use of a particularly corrosive racial epithet in Django's dialogue — not to mention his willingness to juxtapose the horror of slavery with his geeky obsession with pulp genres — is in bad taste, capitalising on a horrible period in American history to make an energetic revenge flick. And, indeed, Tarantino's seemingly flip attitude toward his subject matter can occasionally weigh down a story that longs to be a carefree blast of pure cinema. But it's also clear that Tarantino isn't interested in bowing to political correctness, allowing his characters to be salty, impolitic individuals without sacrificing a general sense of right and wrong in the process.
At 15 minutes shy of three hours, Django Unchained is Tarantino's longest film, unless you combine the two Kill Bill movies as one. The length provides him with an opportunity to more fully sketch out the friendship between Schultz and Django, as well as add more detail to his imaginative pre-Civil War South, showing how slavery and racism creep into every corner of society. Still, the movie can't help but feel talky in stretches as Tarantino allows the pace to slacken in order to focus on character and atmosphere.
These slower stretches have their advantages, serving as a fine counterpoint to the tense set pieces, but especially as Tarantino delivers an extended third act with several possible stopping points, it becomes obvious that Django Unchained has more fat on it than is typical for him. (Speaking of editing, this film represents Tarantino's first movie since his long-time editor Sally Menke died in 2010.)
DiCaprio is striking as the charming, casually evil Candie, and he has a few explosions in this film that are unnerving in their volcanic escalation. Playing an elderly slave who's a close confidant of Candie's, Samuel L. Jackson displays a sly menace that's refreshingly free of mannerisms or tics. So even if some of Tarantino's tricks are starting to lose their freshness, he still manages to get strong performances from his game actors.
Domestic distribution: The Weinstein Company, www.weinsteinco.com
International distribution: Sony Pictures, www.sonypictures.com
Producers: Stacey Sher, Reginald Hudlin, Pilar Savone
Executive producers: Harvey Weinstein, Bob Weinstein, Michael Shamberg, Shannon McIntosh, James W. Skotchdopole
Cinematography: Robert Richardson
Production design: J. Michael Riva
Editor: Fred Raskin
Website: www.unchainedmovie.com
Cast: Jamie Foxx, Christoph Waltz, Leonardo DiCaprio, Kerry Washington, Samuel L. Jackson