Dir/scr/ed: Kirsten Sheridan. Ireland. 2012. 100mins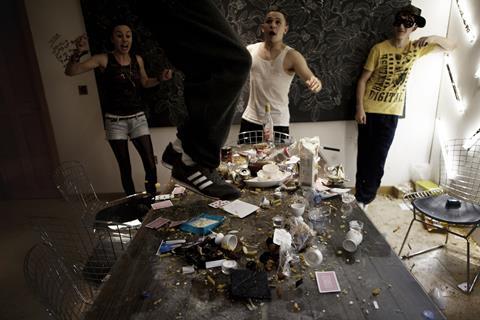 Aimless youths spend a night wreaking drug-fuelled anarchy around a middle-class Dublin house in Kristen Sheridan's thankless Dollhouse, a film that bears remarkable similarities to her compatriot Alexandra McGuinness' 2011 spoiled-brat saga Lotus Eaters.
Dollouse's bare-bones location gives the viewer little to feed on.
With shiny tracksuits and addled complexions to the fore, the teenagers in Dollhouse are clearly clutching the opposite end of the social ladder to McGuinness's trustafarians, but they also self-destructively consume prodigious amounts of drugs and booze over the course of the night - distracting Kirsten Sheridan with their anarchic antics into increasingly incongruous plotting.
An uncertain commercial future beckons for this seemingly ad-libbed exercise, although its Panorama premiere at Berlin could help Dollhouse onto the festival circuit. With a track record including 2001's Disco Pigs and 2007's August Rush (as well as the screenplay for her father Jim's In America), Sheridan takes directing, writing and editing credits on Dollhouse, and her name alone will pique interest from programmers.
Low-budget and filmed on location from a treatment, the oft-improvised Dollhouse is set in an affluent designer home outside Ireland's capital, taken over for a night of wild abandon by four inner-city kids and a dreamy, more sensitive soul called Jeannie (Kerlake). There are no funny games here, however, past the peculiar mix of a porridge fight and a crack pipe. Jeannie is keeping secrets, although her biggest one is physically evident.
Early on, Sheridan's script reveals that this odd house is, in fact, Jeannie's family home, which doesn't deter the gang from wantonly tearing it apart. Noisily nihilistic Eanna (Ward), Denise (Brennan), Shane (Curry) and Darren (McCabe), toss back cans of special brew, smoke joints, pop pills, inhale solvents and play spin the bottle (it's refreshing to see that some things never change) in an uneasy alliance with Jeannie in the house's destruction, until the front doorbell rings and cardigan-clad "boy-next-door" Robbie (Reynor) joins the fray, with more "secrets" of his own to reveal.
Sex is inevitable and one of the stronger sequences in Dollhouse, cut with Jeannie's artistically appealing redecoration of her room to a 2009 track called Lose Your Soul by Dead Men's Bones, incidentally fronted by Ryan Gosling. It's a small break from business-as-usual, however. Dollhouse threatens violence throughout, from which Sheridan repeatedly retreats, and fields some peculiar religious references, but the most notable thing is the void where her characters should be.
With a vigorous young cast energetically hitting their marks, Sheridan's script gives them little to feed on; their blank-faced, purposeless destruction runs out of fuel before she's finished her piece, and there's an attempt to cover by frantically upping the stakes. The appealing Brennan does the most with her part, but some of the boys' dialogue is muffled and heavily-accented.
Dollouse's bare-bones location gives the viewer little to feed on, while adequate camera work can feel constrained by the location. "Is this a story?" asks one of the characters in a self-knowing moment. "Why are we in a story?" A good question indeed.
Production company: Factory Films
International sales: Visit Films, www.visitfilms.com
Producer: John Wallace
Executive producers: John Carney, Lance Daly, Macdara Kelleher, Martina Niland, Garrett Kelleher
Cinematography: Colin Downey
Production designer: Emma Lowney
Music: howie b
Main cast: Seana Kerslake, Johnny Ward, Kate Stanley Brennan, Shane Curry, Ciaran McCabe, Jack Reynor, Deirdre O'Kane, Peter Gowen, Conor Neary