Dir/scr: Rick Famuyiwa. US. 2015. 105mins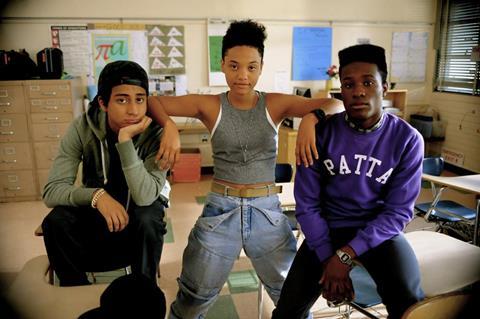 A rambunctious, sexy, funny, irreverent whirlwind of a movie, Dope doesn't seem like it has much discipline or focus, but its frantic forward momentum and haphazard mixture of styles, although demonstratively entertaining, shouldn't distract from a rather pointed political message about race in America. Writer-director Rick Famuyiwa's story of some black high school nerds who get mixed up with drug dealers is a sight to behold, its more-is-more approach more ingratiating than exhausting.
Dope channels the energy and enthusiasm of youth, lifting the story out of its potentially predictable drugs-and-gangs milieu and removing the furrowed-brow melodrama of so many narratives about underprivileged black kids.
Playing in Sundance's US Dramatic Competition, Dope was acquired at the festival by Open Road, and the company would do well to advertise the film's '90s-heavy hip-hop soundtrack, not to mention the score of good reviews. Although Dope doesn't have much star power — its biggest name might be producer Forest Whitaker (who also serves as the film's narrator) — the betting is that word-of-mouth will help this mixture of crime thriller, coming-of-age tale and social comedy find an audience.
The film stars Shameik Moore as Malcolm, a teenager living in one of Los Angeles's most crime-ridden neighbourhoods who, like his friends Jib (Tony Revolori) and Diggy (Kiersey Clemons), is enraptured by old-school rap. Geeks who are endlessly picked on by bullies at their high school, Malcolm and his pals get themselves invited to a party by Nakia (an utterly charming Zoë Kravitz), a girl Malcolm likes. But when a shootout occurs at the party over a drug deal, Malcolm and his friends escape, only to discover that the drugs have been stashed in his backpack. Pretty soon, he has plenty of dangerous men after him.
In the best way possible, Dope doesn't know what kind of movie it wants to be. Skating between different genres, the film is a fitting reflection of Malcolm, who refuses to fall into any one neat media representation of African-Americans. For instance, he lives in a poor black neighbourhood with a single mom (Kimberly Elise), but he's no Boyz N The Hood inner-city stereotype. Although he's devoted to '90s hip-hop albums like The Chronic, he and his buddies have started a punk band. And he resists the destiny of so many of his unmotivated classmates by being a good student and preparing to apply to Harvard.
This description of Malcolm may make Dope sound strident, but the opposite is true. Even when Famuyiwa (The Wood, Brown Sugar) is making his points about racial inequality and white privilege, his movie is exceptionally funny while doing so. There's a playfulness to Dope's politics that, rather than diminishing their sting, sharpens them.
But Famuyiwa's messages are mostly funnelled into storytelling that flaunts its hairpin turns and volatility. Once Malcolm discovers that the drugs have been hidden in his bag, he and his pals must figure out a way to dispose of them without getting killed by the different parties who are laying claim to them. Dope is almost Tarantino-esque in its giddy cobbling of time frames and tones. (A scene will sometimes rewind so that we can see what happened right before. A tense life-or-death moment will be punctuated by a comedic bit.)
Perhaps intentionally, Dope channels the energy and enthusiasm of youth, lifting the story out of its potentially predictable drugs-and-gangs milieu and removing the furrowed-brow melodrama of so many narratives about underprivileged black kids. We may think we know the world of Dope, but the freshness that Famuyiwa brings to the proceedings argues that there's far more nuance in the African-American experience than is usually seen on screen.
To be sure, the film is mostly a comedy, and sometimes the energy dips. (A subplot involving a stoner hacker played by Blake Anderson doesn't produce enough laughs.) But Famuyiwa has done terrific work casting his film. Rocking a painfully unfashionable high-top fade, Malcolm is hopelessly uncool, but he's also sweet and smart with a quick wit. Moore captures Malcolm's awkwardness while hinting at the assertive man he's going to become. And because Dope places him in unexpected situations, including at one point fending off a drug-crazed sexpot (Chanel Iman), Moore must show Malcolm's ability to adapt to any situation, which he does adroitly.
Meanwhile, Clemons delights as a teen lesbian whose sexuality freaks out her church but nobody else in her world. And Revolori, who appeared as the young Zero in The Grand Budapest Hotel, has perfect laidback comic timing as Jib, riffing back and forth with Diggy and imploring Malcolm to take full advantage of the women who are suddenly interested in him. Every once in a while, Dope makes storytelling leaps that are too preposterous, but it matters less when you're around such fun company.
Production companies: Significant Productions, I Am Other Entertainment, Revolt Films
US distribution: Open Road Films, www.openroadfilms.com
Producers: Forest Whitaker, Nina Yang Bongiovi
Executive producers: Michael Y. Chow, Rick Famuyiwa, David Lonner
Cinematography: Rachel Morrison
Editor: Lee Haugen
Production designer: Scott Falconer
Music: Germaine Franco
Main cast: Shameik Moore, Tony Revolori, Kiersey Clemons, Kimberly Elise, Chanel Iman, Keith Stanfield, De'Aundre Bonds, Roger Guenveur Smith, Blake Anderson, Zoë Kravitz, A$AP Rocky