Dir/scr: Daniel Lee. China-Hong Kong. 2015. 126mins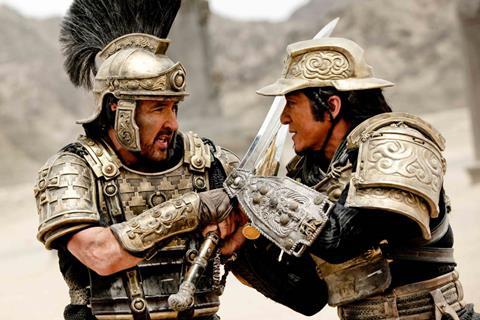 The Roman Empire takes on China's mighty Han Dynasty in Daniel Lee's latest period action adventure, as Jackie Chan's Silk Road guard and John Cusack's renegade centurion form an unlikely partnership against Adrien Brody's despicable Roman general.
For his realisation of ancient Romans, Lee steers clear of the oiled man-flesh that adorned Zack Snyder's 300, aiming closer to the grand vistas and bloody battlefields of Ridley Scott's historical epics.
Committed performances, a hefty budget and assured hands behind the camera ensure that Dragon Blade delivers on its promise of sprawling battle scenes, intriguing culture clashes and budding bromances, where its giddily high concept and unlikely casting may so easily have seen it fail. Nevertheless Hong Kong writer-director Daniel Lee (14 Blades, White Vengeance) never quite achieves the epic grandeur for which he so clearly strives.
Dragon Blade has already proved a legitimate hit in China, topping the domestic box office during the coveted Lunar New Year holidays ($101m). Elsewhere, the unlikely combination of all three leads couldpique some curiosity outside a solid genre and disapora crowd, but Dragon Blade may have to wait for its digital platform debut before finding its largest following.
The Han Dynasty, 48 BC: Huo An (Jackie Chan) is the leader of the Silk Road Protection Squad, assigned to keep the peace between the 36 different races that populate China's harsh, desolate Western region. The squad's "make peace not war" mandate is not shared by everyone, however, and after being framed for smuggling, the Protection Squad is sentenced to hard labour at a remote outpost, Wild Goose Gate.
When the fort is suddenly besieged by a wandering Roman legion, the guards concede to Huo An's superior tactical know-how and let him lead the defence. A sandstorm forces them to stop the battle, and in keeping with the Protection Squad's code, Huo An offers Lucius (John Cusack) and his men shelter. In return, the Roman soldiers help the prisoners rebuild the fort once the storm has past.
Lucius reveals to Huo An that he is on the run after rescuing the young blinded heir Publius (Jozef Waite) from his brother, the evil Consul Tiberius (Adrien Brody), who is now tracking them with his vast army. Huo An offers his help, rounding up support from the surrounding tribes and setting up a climactic stand-off between Tiberius' mighty army and a united force of Silk Road residents.
In his numerous Hollywood forays, Chan has enjoyed the greatest success when partnered with a familiar American co-star in a buddy film, whether that be Owen Wilson's Wild West gunslinger in Shanghai Noon (which spawned a sequel), or more effectively alongside Chris Tucker's motormouthed L.A. cop in Bret Ratner's trio of Rush Hour action comedies. Chan's solo English-language efforts, including The Tuxedo and The Medallion, have been less well received.
Dragon Blade proves the most ambitious of all Chan's buddy movies, and he develops a genuine rapport with Cusack's Roman officer. While Lee ensures that there is plenty of action throughout the film, Dragon Blade works best during its relatively quiet mid-section, when Lucius and Huo An exchange life philosophies, fighting techniques, and even architectural tips following their initial scuffle.
Inevitably perhaps, Lee's script pounces upon every opportunity to champion Chinese thinking and methods. Huo An's pontificating on the importance of unity to secure the country's future through peaceful means may grate, but mostly the burgeoning bromance between him and Lucius - complete with Publius as the surrogate child - succeeds.
While Cusack brings his calm, no-nonsense screen persona to the stoic Lucius, Adrien Brody devours the scenery in his smaller, yet deliciously villainous portrayal of Tiberius. Wrestling a wildly wavering accent that recalls everyone from Russell Crowe to Dame Maggie Smith, Tiberius is spurred on by a desire to commit fraternal infanticide and seize full control. Largely absent until the film's second half, Brody's Tiberius is part-Nicolas Cage, part-Montgomery Burns, as he fumes through his intimidatingly large nostrils.
In a large supporting cast few other performances stand out, allowing the triumvirate of A-listers to maximise their screen time. Lin Peng cuts a striking figure as feral Uyghur warrior Cold Moon, who proves as lethal with her bow as she is determined to claim Huo An as her husband, despite his being already married to Mika Wang's angelic school ma'am.
Younger audiences will delight at the presence of South Korean boy-bander Choi Si-won as Chan's duplicitous comrade-in-arms, but this minor role gives him little opportunity to make an impact. Vanness Wu and Karena Lam pop up briefly in a pair of ill-advised bookends, as modern-day archeologists searching for the lost Roman city of Regum - built on the site of Wild Goose Gate - while Australian scream queen Sharni Vinson (You're Next, Patrick) can be glimpsed for mere seconds as Lucius' Roman wife
For his realisation of ancient Romans, Lee steers clear of the oiled man-flesh that adorned Zack Snyder's 300, aiming closer to the grand vistas and bloody battlefields of Ridley Scott's historical epics. Henry Lai's music certainly echoes Hans Zimmer's score from Gladiator, while also integrating a couple of period-specific songs from both cultures into the narrative. Tony Cheung's cinematography does an impressive job of capturing the vast expanses of the Gobi Desert, but the employment of 3D adds little additional depth to the imagery.
Chan himself - now aged 60 - is credited as action director as well as producer on Dragon Blade, and gifts himself a number of eye-catching fight sequences, most notably a pair of sword duels against Cusack and later Brody, both of whom also display convincing prowess with their blades. Elsewhere, the character of Huo An uses his martial arts skills mostly to interject in fights, disarming and pacifying his opponents, rather than being the aggressor himself.
Numerous efforts have been made in recent years to package Chinese blockbusters in a way that will see them better received overseas, with the US a particular priority. Casting big-name Hollywood talent has been a prime tactic and seen everyone from Christian Bale (The Flowers of War) to Tim Robbins (Back To 1942) - in which Brody also starred - feature prominently, but without the desired rewards. For all its efforts, Dragon Blade may suffer a similar fate.
Production companies: Visualizer, Sparkle Roll Media, Huayi Brothers Media, Shanghai Film Group Co.
International Sales: Golden Network Asia, www.goldnetasia.com
Producers: Jackie Chan, Susanna Tsang
Executive producers: Jackie Chan, Wang Zhongjun, Ren Zhonglun, Zhou Maofei
Cinematography: Tony Cheung
Editor: Yau Chi-wai
Production design: Daniel Lee, Eddy Wong, Ge Yinan
Music: Henry Lai
Cinematography: Tony Cheung
Editor: Yau Chi-wai
Action director: Jackie Chan
Main Cast: Jackie Chan, John Cusack, Adrien Brody, Jozef Waite, Lin Feng, Mika Wang, Choi Si-won, Vannes Wu, Karena Lam, Sammy Hung, Feng Shaofeng, Lori Pester, Sharni Vinson