Dir/scr: Carol Morley. UK-Ireland. 2011. 90mins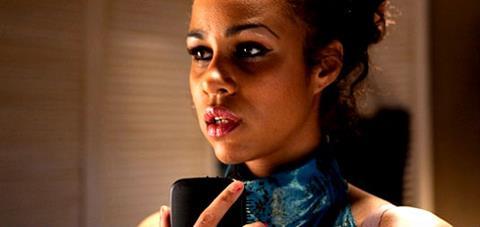 A disturbing, part-dramatised documentary, Dreams Of A Life is, like its protagonist, maddeningly elusive yet also hauntingly unforgettable at times. In it, writer/director Carol Morley (Edge) attempts to find out precisely who was Joyce Carol Vincent, a woman who died alone in a London bedsit shortly before Christmas 2003 and whose body was not discovered for another three years, the TV set still flickering over her skeletised remains.
Dreams Of A Life probably poses more questions than it answers, which seems somehow right, given the story it documents.
Falling somewhere between the posts of a rigorous documentary and an impressionistic, factualised account, Morley's doc may draw audiences in the UK, where the story still has some resonance. Despite its blurriness (interviewees aren't named, for example) and a somewhat bland shooting style not always helped by reconstructions, this may also attract festival attention. Vincent's story shocked Britain and Morley's documentary effectively pokes at the wound, disturbing the viewer with its core questions about the very measure of a life in today's fast-paced urban society.
On the discovery of her body, surrounded by wrapped Christmas presents, Vincent became something of a mystery in the UK, with neither the police nor the coroner's court able to piece together quite who precisely she was and how her death passed un-noticed for all that time. Who were these wrapped presents intended for – the people who never even noticed she had gone?
Morley has spent five years hunting down Joyce Carol Vincent, placing ads on the internet and advertising on the side of taxis. She has struck lucky in some areas – ex-boyfriends Martin and Kirk, for example - and fallen profoundly short in others. A stark failing is the lack of any presence from Vincent's family, the two sisters who took charge of her at the age of 11 when their Indian mother died and West Indian father became absent.
There's a dark hint of abuse, but there's also no understanding here of how Joyce ended up in a government-subsidised bedsit for abused women, or why her neighbours did not notice her death.
But parts of Dreams Of A Life compensate for these shortfalls. We discover that Joyce Carol Vincent was only 38 when she died, a vivacious, mysterious and popular girl who fell on hard times, although nobody seems to quite know how. She had friends and boyfriends a-plenty, she was beautiful, vivacious, she once worked in the City of London, and wanted to be a singer.
She had no mental problems, or drug or alcohol issues. But she was always elusive, even to her friends, and she would disappear at times, right up to the point where the disappearance ended so tragically. Entering hospital with an ulcer once, she gave her bank manager as her next-of-kin despite the fact she had two sisters.
Morley's dramatisations can work to underscore the sadness of Vincent's story (such as sequences from her childhood), but they can also come across heavy-handed and actorly, such as an imagined sequence where Joyce (played by Zawe Ashton) mimes into a hairbrush in front of her mirror and then breaks down. There's a lingering question over whether this is the documentary Morley set out to make or simply all she had to work with after five years with her subject.
But lingering is an appropriate word, because this desperately sad story, and Morley's oblique framing of it, is not easily dismissed from the mind. "It's like she [Joyce] never existed," says one interviewee, "as if she's someone we dreamed up." Dreams Of A Life probably poses more questions than it answers, which seems somehow right, given the story it documents.
Production companies: Film 4, UK Film Council
International sales: Entertainment One, www.entertainmentonegroup.com
Producers: Cairo Cannon, James Mitchell
Executive producers: Katherine Butler, Tabitha Jackson, Alan Maher, Paul McGowan, Andre Singer
Cinematography: Mary Farbrother, Lynda Hall
Production designer: Chris Richmond
Music: Barry Adamson
Main cast: Zawe Ashton, Alix Luka-Cain