Entertainment's 3D reboot debuts top to become first 18-rated film to hit number one since Saw 3D in Oct 2010.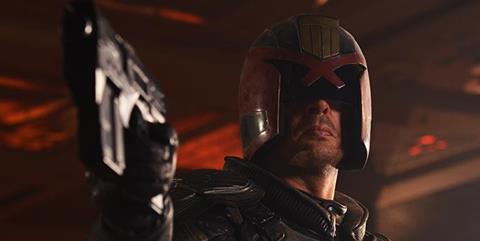 With the market down around 25% on last weekend as a result of the unseasonably warm weather, Entertainment's Dredd took over £1m on its debut to prevent Total Recall recording a second week at the UK's summit.
Exact figures were unavailable at the time of writing, but Dredd is the first 18-rated film to be top of the box office since Saw 3D in Oct 2010.
Enjoying the week's strongest Fri-Sat increase for the new releases of 25%, Universal's Anna Karenina was the second highest new entry. Joe Wright's adaptation crafted an estimated $1.6m (£980,000) opening bow from its 494 sites, with the distributor confident it can enjoy a strong week and a long run.
Wright's third collaboration with Keira Knightley resulted in their weakest opening, behind Pride & Prejudice's $4.0m (£2.5m) debut and the $2.6m (£1.6m) recorded by Atonement. How much the weather played a part will become clearer on its holdover next week.
Based on non-final figures, Momentum's Lawless is narrowly behind on $1.5m (£973,203). John Hillcoat's western was a clear number one in Ireland over the weekend and, even with some sites still to report, is Hillcoat's best-ever opening in the UK.
When final figures are confirmed, there's every chance that Lawless could leapfrog Anna Karenina into second spot.
Disney's Brave is now closing in on £20m with $30.9m (£19.3m) taken after six weeks in play, following a $1.0m (£649,000) weekend.
Dropping 54% in its second weekend was Sony's Total Recall. Len Wiseman's remake recorded $1.1m (£703,000) for $6.4m (£4.0m), a result that means it's on the cusp of becoming Wiseman's second-best performance in the UK behind Die Hard 4.0 with Underworld's $7.0m (£4.4m) likely to be overtaken this week.
Lionsgate's The Possession fell one place to sixth after an $853,000 (£533,000) second weekend for $3.4m (£2.1m) after ten days in play. Also for Lionsgate, Keith Lemon: The Film stands at $4.5m (£2.8m) while The Expendables 2 has amassed $9.4m (£5.9m) after four weeks.
Universal's Ted is set to become only the third film this year to break the £30m barrier, standing at $45.8m (£29.2m) after six weeks; while The Bourne Legacy has accumulated $16.7m (£10.6m) after four weeks and will require a last-minute burst of pace to topple The Bourne Supremacy's $18.5m (£11.6m) as the second strongest Bourne performance in the UK.
Suffering in its second week was Fox's The Watch, taking just $542,599 (£339,248) for $5.0m (£3.1m) to date. Performing stronger for the distributor was their Bollywood production Raaz 3D: The Third Dimension, which grossed $117,404 (£73,410) from only 19 sites at a decent average of $6,179 (£3,864).
Disney's A Few Best Men added $64,000 (£40,000) to stand at $817,000 (£511,000) after ten days in play.
This week sees saturation releases for eOne's The Sweeney (opens Sept 12), Momentum's Hope Springs, Universal's ParaNorman, Sony's Premium Rush and To Rome With Love. Revolver's When The Lights Went Out expands from its regional release, while Axiom's About Elly and Cinefile's The Snows Of Kilimanjaro are among the films receiving limited releases.
For more of Screen's box office news, analysis and charts, visit our Box Office section by clicking the icon below.