Dir: Peter Farrelly and Bobby Farrelly. US. 2014. 110mins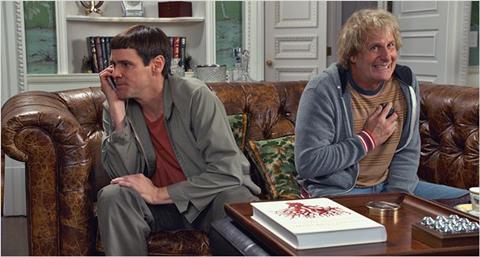 Dumb is perfectly acceptable — uninspired is another matter entirely. Despite a few choice comedic bits, Dumb And Dumber To is a largely scattershot sequel to the Farrelly brothers' 1994 smash that established them as a new generation's kings of lowbrow humour. The chemistry between Jim Carrey and Jeff Daniels can still be plenty pleasurable, but To never really finds its rhythm, and so the slow spots prove interminable.
Both men are still funny on occasions in To, but the performances feel like imitations of their younger selves.
Opening November 14 in the US, where the original remains Peter and Bobby Farrelly's second-biggest hit (behind There's Something About Mary), Dumb And Dumber To will hope to reverse the filmmakers' commercial stagnation in recent years. To a lesser degree, the same goes for Carrey, who has had success of late with Mr. Popper's Penguins and A Christmas Carol but doesn't have the same white-hot marquee value he once enjoyed. So the good news is that, for the next two weeks, To will have the comedy marketplace all to itself. However, that will change once Horrible Bosses 2 comes into the picture for Thanksgiving.
Twenty years after the first film, those lovable idiots Harry (Daniels) and Lloyd (Carrey) go on a new adventure provoked by the fact that Harry needs a kidney. Luckily, he has learned that he has a daughter who's now in her early 20s named Penny (Rachel Melvin) who's been adopted by a well-to-do family. Harry wants to ask her for a transplant — and to get to know the child he never realized existed — while Lloyd just thinks she looks hot from her picture. Soon, these knuckleheads are on a road trip to a science conference where she'll be speaking.
The Farrellys, along with four additional cowriters, have crafted a story that's very typical of them, full of dumber-than-dumb gags, beautiful women who can match the male characters' juvenile sensibility, and a generally sweet tone. Harry and Lloyd may be morons but, for the most part, they're not mean, and as a result To's sophomoric humour has a leavening, unpretentious air to it that's cheering rather than nihilistic.
But for the brothers' films to work, they need a strong series of great jokes and extended comedic sequences to pave over the duds that are inevitable with such a rapid-fire style. But after the frenzied physical comedy and occasionally brilliant stupidity of their last outing, the underrated The Three Stooges, this new film strains for laughs.
This may be in part simply because Carrey and Daniels are 20 years older than they were in the first film. With Dumb And Dumber, they could bring a youthful insolence to their roles, but these now-middle-aged actors can't provide the same sort of spark. Both men are still funny on occasions in To, but the performances feel like imitations of their younger selves. This is especially true with Carrey, who remains a risk-taking comic who will do just about anything for a laugh: Unfortunately, his improvised asides and rubber-faced antics come across more like shtick this time around.
To be sure, there are some stellar bits in To, several of them containing Rob Riggle, who plays two roles in the film. But as opposed to the Farrellys' best movies, where the jokes assault you from dozens of angles mercilessly, To gets bogged down in its so-so story and mediocre supporting characters. For comic filmmakers so focused on laughs, those concerns wouldn't seem to be that important. But watching this sequel is to be reminded that without a decent foundation supporting the yuks, the proceedings can collapse pretty quickly.
Production companies: Red Granite Pictures, New Line Cinema, Conundrum Entertainment
US distribution: Universal Pictures, www.universalpictures.com
Producers: Charles B. Wessler, Bradley Thomas, Bobby Farrelly, Peter Farrelly, Riza Aziz, Joey McFarland
Executive producers: Brad Krevoy, Steve Stabler, Marc S. Fischer, David Koplan, Danny Dimbort, Christian Mercuri
Screenplay: Sean Anders & John Morris and Peter Farrelly & Bobby Farrelly & Bennett Yellin & Mike Cerrone, based on characters created by Bennett Yellin & Peter Farrelly & Bobby Farrelly
Cinematography: Matthew F. Leonetti
Editor: Steven Rasch
Production designer: Aaron Osborne
Music: Empire Of The Sun
Website: www.dumblr.com
Main cast: Jim Carrey, Jeff Daniels, Rob Riggle, Laurie Holden, Rachel Melvin, Kathleen Turner