The UK culture minister talks about the current strengths and challenges of the British film industry.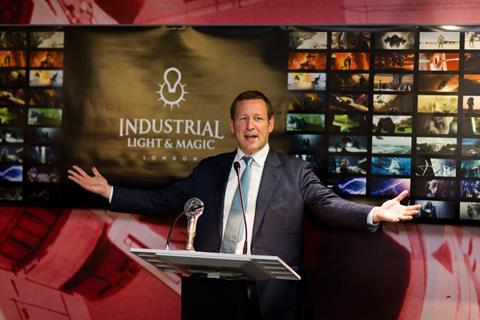 Ed Vaizey, the Conservative MP for Wantage and Didcot, is the UK's Minister of State at the Department for Culture, Media and Sport and the Department for Business, Innovation and Skills
Earlier this week, the DCMS released figures about the strength of British film production — with total UK spend for film so far this year at £750m, with £600m coming from inward investment – a "significant increase on the same point in 2013." (Total spend in 2013 was £1.1bn.) The DCMS noted that for every £1 invested through the Film Tax Relief, £12 is generated for UK GDP.
On the occassion of the BFI London Film Festival, Vaizey spoke to Screen editor Wendy Mitchell about the job being done by the BFI, the challenges ahead for the British film industry, and the current bright spots to celebrate in the UK's creative industries.
We've seen ILM launch in London this week, and obviously one reason they are here is the new post-production tax incentive. So looking across the incentives for the creative industries, is there anything you see being added in future in another sector, or any existing support to be increased?
I genuinely don't know the answer to that question. Clearly we've introduced a whole sweep now — film, TV, animation and games — that is a clear, coherent package of tax breaks. The chancellor was persuaded by an astute lobbying group for theatre. The next current campaign is to look at children's television to a certain extent the animation tax break will have an impact on that. Our door is always open, it's a balance of making the case of, 'is it needed?' and secondly, 'is it affordable?' I'm very happy with the package we offer now.
Whatever happens with the election in May, does the film tax credit seem safe and sustainable, what's your feeling from other parts of government?
When we were in opposition we came under pressure to make it clear we would sustain the tax credit, and we did that. Companies like Warner Bros who are investing in Leavesden, for example, want an element of certainty. People think that investing in one film is a one-off investment, but actually what were are seeing with Warner Bros and Leavesden, and ILM – is that those are significant long-term investments, and you need certainty. Obviously we plan to retain the tax credit if we win the election, but the opposition parties also need to make those guarantees to the industry so that people can be confident.
How do you think the BFI is doing as the lead body for film?
I think that it's not possible to praise the BFI highly enough, particuarly Amanda Nevill. After taking on at the time what could have been seen as a poisoned chalice: the former Film Council responsibilities at a time of falling income. I think she and her team have done outstanding work to make that work. Certainly in terms of Film Council's primarily function of investing in British film, that has carried on seamlessly. The appointment of Ben Roberts looks, so far into his tenure, pretty inspiring. I also think the BFI has risen to the challenge of representing the film industry around the world.
I make no secret of the challenges that I think the BFI faces going forward. I made it clear that they have to embrace what we would call convergence. Being responsible for a suite of tax credits also covering TV and animation, I want the see the BFI morph into an organisation that can credibly lead those industries as well.
I want to see the London Film Festival continue to grow and go from strength to strength.
I think the BFI has to make clear its strategy for its future headquarters, in terms of where it wants to be, what it wants to do in relation to its current base…What's it going to do in terms of a refurb or a move? I think we would need some clarity on that.
But up to now I think the BFI has done an amazing job.
What do you think are the challenges for the wider UK film industry as a whole in the next few years?
It's hard to say because the challenge to a certain extent is the perennial one of, 'Can you build a sustainable British film industry?' But people ask, what does that mean? This is a global industry, we have a lot of massive investment in the UK, we're the third largest film centre in the world. We have British actors and directors and stories, de facto British studios like Leavesden and Pinewood. We have a successful British visual effects industry. We need to look at the wider picture and see where the successes are and stop necessarily with this perpetual worry with not having as it were a 'Hollywood studio.' The challenge will be to continue to grow the industries across all those different sectors – visual effects, studios and so on.
The other issue I think we need to look at is coping with success, there are concerns about capacity problems. We need to ensure we continue to invest in skills, for example at the National Film and Television School. I'm pleased somewhere like Belfast has become a high-end television hub. And places like Salford as well have a potential to grow. I'm really pleased the work that Screen Yorkshire is doing to attract inward investment to Yorkshire. It's important that we ensure filmmaking all over the UK and not just in London.
On that note, what about Scotland – do they need more support for a studio?
I know that the Scottish government has talked about investing in a film studio and I'm very happy to help them in any way that would be reasonable for me to do…the BFI represents the whole of the UK and I think the first high-end TV drama [under the new tax credit] is Outlander, which filmed in Scotland. The tax credit should benefit Scottish filmmaking and the BFI can help as well.
Geography is one aspect of diversity, how else can the film industry become more diverse?
I'm passionate about diversity, the reason being because you can have as many outreach programmes as you like to encourage different audiences, but if people don't see people on screen who look like them, they won't go to those movies. If you're not including a diverse range of actors on screen, you're effectively cutting yourself off from an important audience who could come to see your films. I gather that the three ticks scheme (at the BFI Film Fund) has three new productions.
We had a diversity roundtable with the BFI with the film Gone Too Far, they made the point that we shouldn't be talking about black films or white films. It shouldn't even be an issue, I hope that in two or three years time we can simply be colour blind and we see on screen the kind of diverse communities that most of us live in in this country. But it does need effort…I really hope we're not back sitting around a table in two years time having the same discussion.
On a lighter note, what films have you been watching, what is your film taste like?
I saw The Imitation Game on the opening of the LFF. I want to see Mr. Turner quite soon. I have a list of films to see like Pride, The Falling, Gone Too Far.
My film taste is eclectic, but I love the Ealing Comedies like Passport to Pimlico and Kind Hearts and Coronets. I love contemporary British cinema like An Education. From My Beautiful Laundrette to The King's Speech, those British independent films are absolutely part of my taste.
I also like great epic American moviemaking like The Godfather.