Di/scr: Carol Morley. UK 2010. 93mins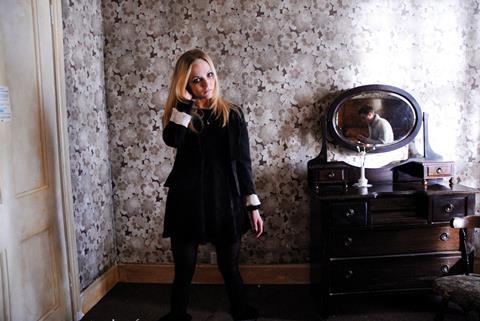 All is not right in Edge's clifftop hotel, but Carol Morley's ambitiously downbeat feature debut certainly looks extraordinary throughout. In fact, so compelling are her visuals – with cinematographer Mary Farbrother – they produce, from the title sequence, a wave of goodwill for her screenplay. It needs it.
The screenplay has breakthrough moments of unexpected poignancy.
Independently financed through the Enterprise Investment Scheme and shot in 18 days this January, Edge is the first horse out of the stable for Genesis Entertainment. While it lurches around tonally and requires a determined viewer, it's still a calling card for everyone involved.
Acting credits are sound throughout; the screenplay has breakthrough moments of unexpected poignancy; the score is good; and yes, it looks great (the snow-bound setting was apparently accidental, but the team was still able to make spectacular use of it). Edge will be a hard sell to audiences, however, with its mournful, almost fey, obsession with death and suicide.
Former documentarian Morley has opted out of the British socio-realism thread for something more impressionistic and personal here; she doesn't always pull it off but it's memorable that she tried. Guests arrive at the un-named hotel at the top of Beachy Head's towering, white-washed cliffs on the British coast, all are tied in some way through death, suicide, or violence. Maid Agata (a warm debut from Ania Wendzikowska) flits between their rooms; the largely-silent receptionist Linda (Julie T. Wallace) ushers them in.
There's a Hotel Splendide element to the affair, although the staff and guests aren't quite so caricatured. Elly (Maxine Peake) is the Greta Garbo of the bunch, nursing an old wound. Wendy (Marjorie Yates) has locked herself into her room to commit suicide, helpfully signposting the fact by unpacking a rope, pills and razor blades. Young couple Phillip (Joe Dempsie) and Sophie (Nichola Burley, both good) are on an internet date. And guitarist Glen sits in the hotel's coffee shop, strumming for its scant customer base.
Given the fragile, cobweb-like, nature of Edge's plot, 90 minutes can feel a stretch. Brightly effective - if sparse - bursts of humour, meanwhile, only illustrate how some lightness could have deepened the piece. Creativity in the light of an evidently small budget is exemplary, and it will be interesting to see what Morley attempts next; her director's statement speaks of her father's suicide and this debut evidently exorcises some ghosts.
Production companies: Genesis Entertainment, Canon And Morley Productions
Producer: Cairo Cannon
International sales: cairo@campfilms.co.uk
Cinematography: Mary Farbrother
Editor: Fiona DeSouza
Production designer: Chris Richmond
Main cast: Maxine Peake, Paul Hilton, Joe Dempsie, Nichola Burley